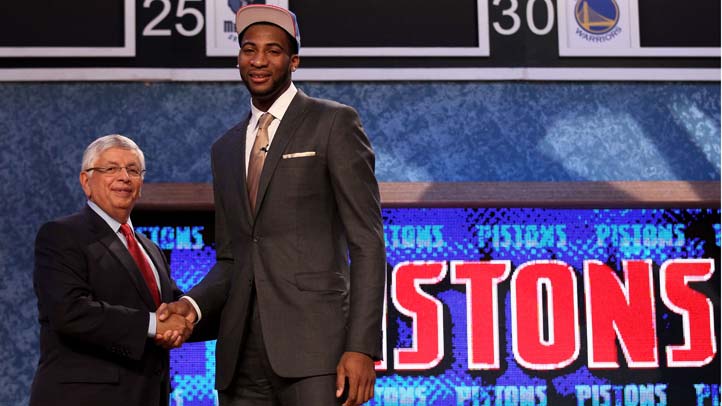 The first two days of Andre Drummond's NBA summer league experience has been a microcosm of his freshman season at UConn: a lot of ups, a lot of downs and a lot of raw athleticism. On Monday, Drummond, the No. 9 pick of the Pistons in last month's draft, scored eight points, five rebounds, four steals, and two blocks.

A day later, Magic rookie Kyle O'Quinn got the best of Drummond. The Detroit Free Press' Vince Ellis explains:
It was no surprise O'Quinn, who the Pistons liked as a potential second-round pick, would try to take it to Drummond.

And he did, finishing with 11 points and six rebounds -- although he did most of his damage in the first half. Drummond finished with three points and three rebounds. O'Quinn, 22, looked like guy who spent four years in college while Drummond, 18, looked like a guy who would be entering his second year at UConn if he hadn't declared for the draft.
That was one of the pre-draft concerns with Drummond: that he wasn't always as aggressive as he needed to be and it could lead to situations like the one that played out on the court Tuesday against O'Quinn. That said, it was the teenager that had to remind everyone to keep things in perspective.

"Every day is a learning opportunity," Drummond said via the Free Press. "There's no day where you don't learn nothing new playing basketball. ... This time he was a little bit more physical than Kanter and was a little bit more quicker."

Drummond faced Kanter, the second-year big man from Turkey, on Monday and held his own. O'Quinn, from a small school and with something to prove, used a summer league game as his own personal NBA Championship series.

Pistons summer league coach John Loyer sounded unconcerned because he knows that this is a process; one game in July does not define an NBA career.

"He's an 18-year-old kid, trying his butt off," Loyer said by way of the Detroit News. "We're going to be playing five games in five days. There's going to be games where he gets a double-double and games where it'll be tougher."