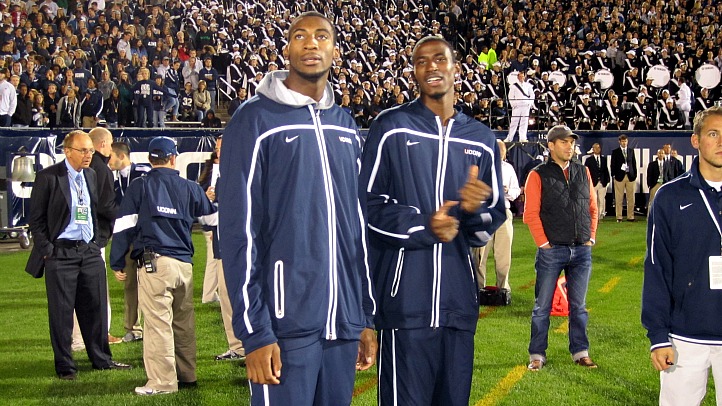 While freshmen Ryan Boatright's immediate future may be uncertain -- the NCAA is currently reviewing his eligibility and he's now allowed to dress or play in games in the meantime -- the other two players in his recruiting class, Andre Drummond and DeAndre Daniels, are preparing for Friday night's matchup with Columbia.

But unlike their previous basketball experiences, neither will be in the starting lineup. Coach Jim Calhoun says he'll probably go with the same starting five he put on the floor for the the C.W. Post exhibition game: Shabazz Napier, Jeremy Lamb, Roscoe Smith, Tyler Olander and Alex Oriakhi.

Despite featuring one junior and four sophomores, it's a veteran group, and a testament to just how much this team grew last season, especially the final 11 games. But as Calhoun has said on several occasions in recent weeks: there is no such thing as defending national champs; everybody's 0-0, it's a new season, and winning as many games as possible is the goal. Which is why last season's accomplishments have nothing to do with this one. It's also why Calhoun needs to see more out of Oriakhi, one of the team's best interior players. Oriakhi understands as much.

"I've definitely got to be more aggressive rebounding," he said, "hopefully I will see more minutes than last game. I can get into a rhythm."

Inconsistency was an issue for Oriakhi last season, too. This time, though, he'll have some help in the middle. In addition to Olander, there is, of course, Drummond who seems unconcerned that he won't be starting.

"I'm not expecting to start or anything like that," he said, according to the Hartford Courant. "I need to come in and play my role and hopefully one of these games I do end up starting."

In the meantime, Drummond's been working on his free-throw shooting.

"I wasn't always a bad free throw shooter," he said, "but my arms got longer out of nowhere. I don't know what happened, but it kind of threw me off a little bit, so I'm trying to figure out the muscle memory and get it all back."

So the fun officially starts Friday night at 7 p.m., but there is some good news for the 2012 recruiting class, too: Omar Calhoun, the 6-3 guard who committed to the Huskies over the summer, signed his letter of intent this week so he's officially headed to UConn next fall.