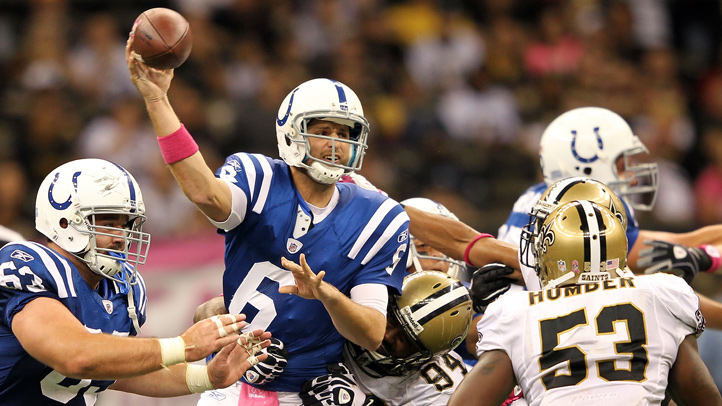 It had been a tough few months for former Huskies trying to make it in the NFL. Jordan Todman, the 2010 Big East Offensive Player of the Year, was released by the Chargers earlier this season, and Lawrence Wilson suffered the same fate with the Panthers after he was arrested on marijuana possession charges.

But things are looking up. The most prolific passers in UConn history will get another crack as an NFL starter. Dan Orlovsky was selected in the fifth round of the 2005 draft by the Detroit Lions and he started seven games during his four years there. He's best known for running out the back of the end zone for a safety against the Vikings in 2008, a play that served as a microcosm for the Lions' 0-16 season.

After two years with the Texans, Orlovsky now plays for the Colts, another outfit looking for its first win. And now, he'll be under center, replacing Curtis Painter who replaced Peyton Manning. So that's good news. The bad news: the 0-11 Colts face the Patriots this week.
The Colts also signed former UConn linebacker Scott Lutrus to their active roster.

In other Huskies football-related goings-on, the Philadelphia Eagles have signed Greg Lloyd off their practice squad. The Eagles placed linebacker Moise Fokou on injured reserve ending his season, and that opened up a spot on the 53-man roster for Lloyd.

Background details via PennLive.com:

"A seventh-round draft choice of the Eagles in 2011, the 22-year-old Lloyd (6-1, 247) started 23 games at middle linebacker at the University of Connecticut, amassing 177 tackles, three sacks and an interception.

He earned second-team All-Big East honors following the 2009 season after starting 10 games and finishing second on the squad with a career-high 91 tackles and one sack. A native of Clermont, Fla., Lloyd attended East Ridge High School, where he earned All-Central Florida honors. He is the son of former Steelers linebacker Greg Lloyd."