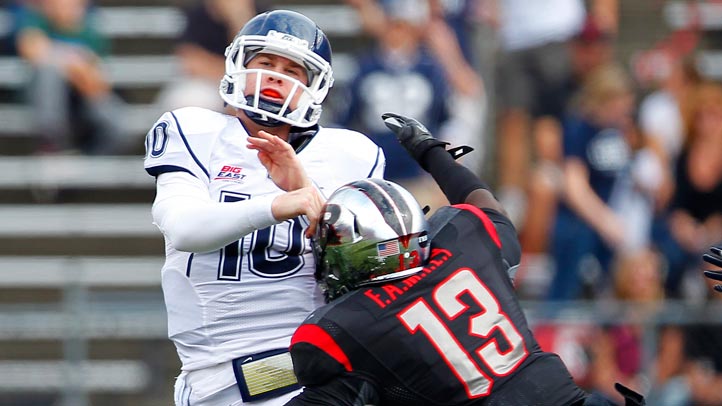 When coach Paul Pasqualoni met with athletic director Warde Manuel following the Huskies' second straight 5-7 season, the Hartford Courant reported that Manuel suggested that someone other than longtime assistant George DeLeone call the offensive plays next season.

It was a fair request given that DeLeone's offenses at UConn have been -- to put it mildly -- awful. Early Thursday it appeared that Manuel might get his wish and Pasqualoni wouldn't have to demote the man who had coached with him for several decades.

According to a report from the Courant's Desmond Conner, DeLeone was possibly headed to the NFL. Specifically, to the New York Giants, maybe as the team's offensive line coach. Conner added that the reason DeLeone would leave Storrs is because he's "close to being vested in retirement at the next level and that, more than anything, is at the center of the move."

Turns out, DeLeone's not going anywhere. He said as much Thursday evening.

Hours before DeLeone clarified his employment situation, Conner spoke to Pasqualoni about his assistant coach and not surprisingly, he didn't offer much in the way of insight.

"There's no information or anything on that," Pasqualoni said. "…My only comment to you is that at this time of year, you know what time of year this is, so, you know. There's a lot in regards to coaches and movement, around this time of year there's a lot of speculation on a lot of things."

When asked if DeLeone would return to the Huskies for the 2013 season, Pasqualoni said "Well, right now I anticipate the staff I have being back right now, but you know this. This is the time of year where we've already lost two guys [defensive] coordinator Don Brown [Boston College] and special teams/running backs coach Clayton White [N.C. State] … you know what time of year it is."

There wouldn't have been many fans lamenting the loss had DeLeone left. While a trusted friend to Pasqualoni, he's never been able to get the Huskies' offense going. Part of that can be blamed on personnel, but that only holds for 2011. The 2012 roster had playmakers, it's just that DeLeone struggled to get the best out of them.