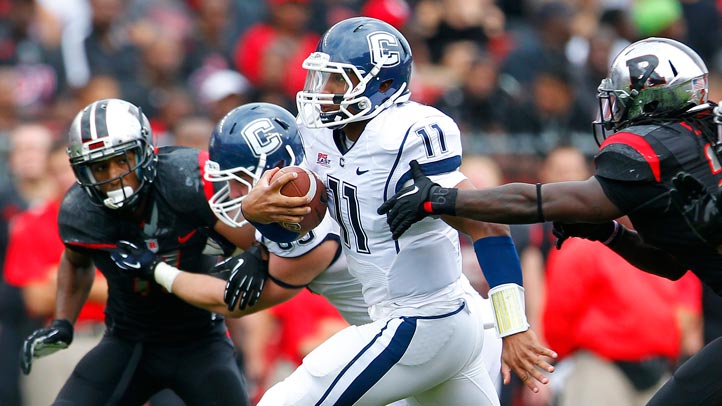 If you're looking for a silver lining in the wake of the Huskies latest loss, a 19-3 decision against 22nd-ranked Rutgers, here you go: every week ESPN.com Big East blogger Andrea Adelson updates the here conference bowl projections and the Huskies, despite not having won consecutive games in the Paul Pasqualoni era, remain in the mix.

Be forewarned, it's not a glowing review but more a "you guys get in by default" frank examination of the situation at the bottom of the Big East.
The details:
BBVA Compass, Jan. 5, 2013 -- UConn vs. Conference USA. Of the rest of the group, the Huskies are the only team that needs three wins to become bowl-eligible. Syracuse, USF and Temple need four more. So I am going with the team that has to win the fewest games, but trust me, the Huskies are not inspiring much confidence right now.
It's not much but it's something. And Adelson's right: the Huskies' aren't inspiring a ton of confidence right now. This is what happens when the defense is inconsistent and the offense struggles to score points. But if you're reading this you already knew that.

As for those three more wins UConn needs to become bowl eligible, the remainder of the schedule looks like this: home games against Temple and Syracuse, two teams currently 1-0 in the conference but 2-2 and 2-3 overall, respectively. Then it's at USF (0-2, 2-4), home against Pitt (0-2, 2-3), at Louisville (0-0, 5-0) and the regular-season finale versus Cincinnati (1-0, 4-0) at Rentschler Field.

As it stands, Louisville and Cincy are long shots but the four other games on the schedule are eminently winnable. Whether that happens is another matter, but let's put it this way: there's no reason it shouldn't.