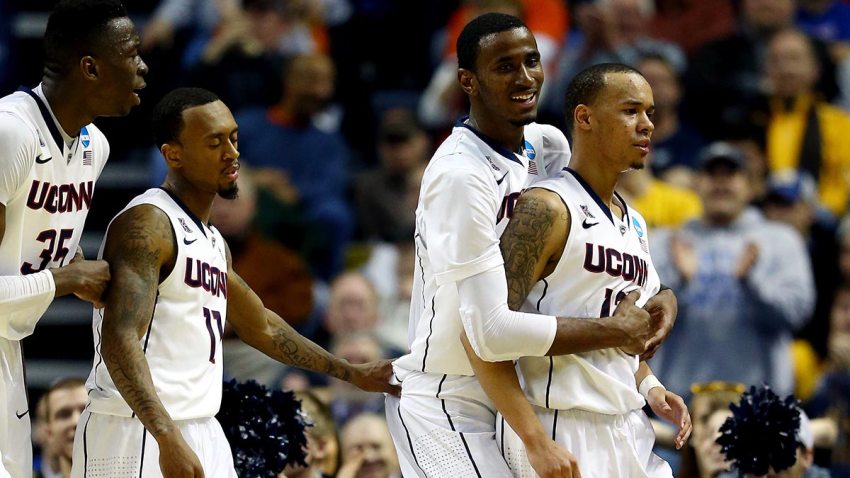 The seventh-seeded Huskies led by two points in the opening minutes and then spent the rest of regulation fighting, clawing and scratching their way back into the game. They managed to even the score late, and take No. 10 St. Joseph's to overtime where UConn was finally able to string together some baskets before staving off a late St. Joseph's rally.
When it was over, some 2.5 hours after tip-off, the Huskies had won, 89-81. And now they'll face the winner of No. 2 Villanova and No. 15 Milwaukee.
UConn returned to the NCAA Tournament after sanctions kept them out of the postseason a year ago and, truth be told, they looked rusty and out of sorts for most of the night. Coach Kevin Ollie, who was making his NCAA Tournament debut, had talked all week about the confidence he had in his team, starting with senior point guard Shabazz Napier, who won just about every individual award imaginable in recent days.
But even Ollie had to be doubting his players' mindset through much of regulation. The Huskies trailed by 10 points in the first half before climbing back into it late in the second half. In fact, when UConn went up 73-70 with 3:45 to go in overtime, it was their biggest lead of the game. Then they were able to extend that lead down the stretch, converting 16 of 17 free throws.
Napier had 24 points, 8 rebounds and 6 assists, but junior forward DeAndre Daniels was our player of the game. He started slow, but caught fire in the second half and overtime, making huge threes and crucial free throws, and finished with 18 points. Freshman Amida Brimah also came up big, scoring nine points -- including an improbable three-pint play late in the game -- and six rebounds.
Despite the gritty win, UConn has plenty to work on before taking the court again Saturday. They had no answer for St. Joseph's forward Halil Kanacevic, who had 12 points, 7 rebounds, and 5 assists before fouling out late. And Ollie's bunch was outrebounded 30-29 while allowing the Hawks to shoot 50 percent from the floor.
So, no, it wasn't perfect -- in fact it was hard to watch at times -- but the Huskies eked out a win and that's all that counts this time of year. It will take more than luck to make a deep run in the tourney, and you can bet Ollie will be stressing this point before their Round of 32 matchup.