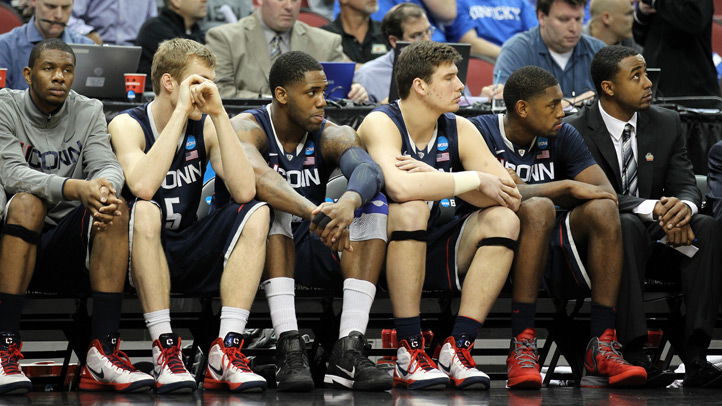 The No. 9 Huskies played one of their worst games of the season Thursday night in their opening matchup with No. 8 Iowa State. The timing was awful, but 12 months ago UConn was on the other side as they began their improbable run to a third national title.

Not that that's any consolation but it is the reality: the Cyclones were playing out of their minds and, as coach Jim Calhoun so eloquently put it, "For whatever reason, we get caught as being nothing more than a street sign as they went by us a thousand miles an hour in that first 10 minutes of basketball."

And 10 minutes was all it took. By then, Iowa State was up by 14 points and two minutes and eight unanswered points later, the lead was 22. If there was a mercy rule, it would've been invoked. Instead, the Huskies, as they're known to do, settled down and cut the lead to 10 by the break.

It was as close as six points in the second half but by then, even with the Cyclones not making every shot they attempted, UConn's athleticism wasn't enough to overcome their lack of offensive chemistry. Ultimately, it was the first 20 minutes that sealed the Huskies' fate, even if we had to wait another 20 minutes to declare it official.

Second-year Iowa State coach Fred Hoiberg called it "the best 10 minutes" his team played all season and no one, including the Huskies, disagreed.

"We knew statistically they were not good at defending the three-pointer," point guard and three-point ace Scott Christopherson said (via the Des Moines Register, "but we still wanted to play inside-out."

And that's the thing -- the Cyclones dominated from just about everywhere on the floor. If it wasn't Royce White taking the ball to the hole as the Huskies tried and failed to stop him, it was Christopherson or Chris Allen nailing wide-open threes.

"They came out and they threw the first punch," said Shabazz Napier. "We weren't ready for it." And Jim Calhoun added: "If I were Fred, the Mayor of Ames, I'd be happy with the way they played. They played at a different speed, and that's why they won the game."

While losing is never easy to take, sometimes the way you lose can lessen the anguish. The Huskies were blown off the floor early. In that sense, it gave players and fans plenty of time to prepare for the inevitable. It's a lot easier to take than, say, a last-second midcourt shot that decides things as time expires. There was no hope and a prayer here. It was one-sided from the first tip and they better team won. And now they'll get the honor of facing the tournament's top team, Kentucky.