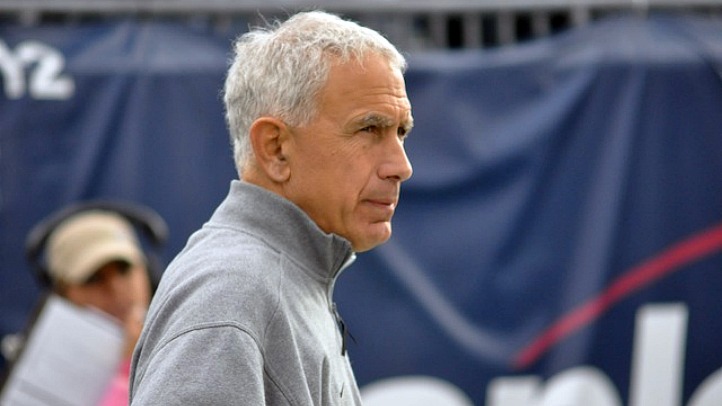 We've talked about it frequently this young season but for the Huskies to become something other than a 5-7 team they have to win the games their supposed to and play more consistently in the process. For the second straight year, UConn somehow lost to Western Michigan. This isn't a knock against the Broncos but an indictment on just how inconsistent Paul Pasqualoni's team can be.

The UConn Blog's John Rook had it right when he wrote after the Huskies fell 30-24 Saturday afternoon: "Losing to Western Michigan once is bad, losing twice is unforgivable."

UConn trailed 17-0 before realizing that this wasn't a walk-through and by then it was too late. Perhaps most inexplicably, WMU quarterback Alex Carder again had his way with the Huskies defense, throwing for 237 yards and a touchdown in three quarters of work. And this gets back to something we preached a year ago: a stifling defense is great but what happens if they're not on their game? It helps to have an offense that can pick up the slack.

Well guess what? Redshirt sophomore quarterback Chandler Whitmer had his best game as a Husky, completing 28 of 44 passes for 333 yards and three touchdowns, sophomore wideout Geremy Davis had nine catches for 119 yards, and sophomore running back Lyle McCombs added 119 yards on the ground. The problem, of course, are that the numbers are skewed because the Huskies spent the afternoon playing catch-up. And Whitmer's lone interception that cost the team at least three points didn't help, either.

Pasqualoni was asked why the Huskies have had so much trouble with Carder.

"Well, we weren't generating the amount of pressure, he wasn't uncomfortable as we would of liked to see him, he is a hard guy to make uncomfortable," he said. "I thought they did a good job in their protection, their scheme and the execution of their scheme early in the game. There is no question, he is a very good quarterback. We knew that coming in, we knew that from last year, but we just didn't play well enough at times in the coverage and didn't get to him, and didn't make him uncomfortable. When your playing against a senior, who is a top flight guy, that's a problem."

So is losing to Western Michigan twice in as many years.

So now what?

"This season is going by very quickly," Pasqualoni said. "We have eight games left and for the seniors it is going by very fast pace, and we still have the chance to be a good team. I told them this team can be a good team but we just gotta play better. We need more consistency and can't make mistakes. So we're going to treat this game just like we treated the last one, just like we treated the one before that. We grade the film, we come in tomorrow, we watch the film, we give the kids their grades and we move on to the next game."

At some point, though, the Huskies have to make the jump from middle-of-the-pack Big East team.