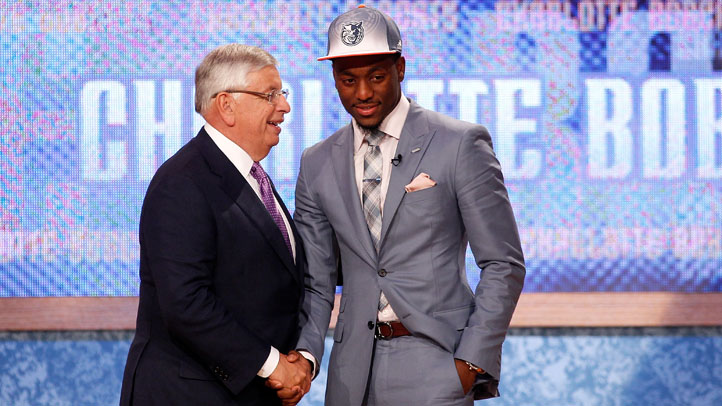 For most college players awaiting their professional fate, the NBA Draft, by definition, is fraught with uncertainty. For Kemba Walker, it seemed like a relatively calm affair, even as he waited patiently for the Charlotte Bobcats to select him with the ninth-overall pick. But Walker has never been one to show signs of distress with anything basketball-related, and Thursday night in Newark was no different.

And now Walker and his calm-amid-chaos-while-still-going-200-mph style of play is headed to North Carolina where Michael Jordan is majority owner of the Bobcats. Predictably, Walker is elated.

"I'm extremely happy," he said Thursday night. "I feel like I've really been given one of the best opportunities in this draft. I'm going to a team that's run by Michael Jordan, the best player to ever play the game. I've got a lot to learn from him and I'm definitely going to go in with an open mind and try to pick his brain and be the best player that I can be. It's an amazing feeling."

In their draft preview, Grantland.com wondered if Kemba could "redeem the reputation of the New York point guard" If the day-after reports are any indication, expectations are high.

The headline on SB Nation's Draft Grades says it all: "Bobcats Stockpile Weapons, Promise Destruction."

The Charlotte Observer's Joseph Person writes Friday that "The Bobcats needed a player to replace the offense they lost when they traded Stephen Jackson in a three-team swap with Milwaukee and Sacramento. They also needed a backup point guard to step in for Shaun Livingston, who went to Milwaukee with Jackson. They got both in Walker."

Of course, any success we're projecting onto Walker is just that at this point -- the draft afterglow that most fans experience is soon replaced by the reality that rookies, in general, need months (and sometimes years) to adjust to the NBA game. There will be plenty of time for that.
For now, Walker has work to do. As for how he plans to spend that first paycheck, it's pretty simple, really: "I definitely want to spend my first check on my parents," said Walker. "I want to just tell them you all can just have this whole check, you all can spend it on whatever you guys want, because they really deserve it."