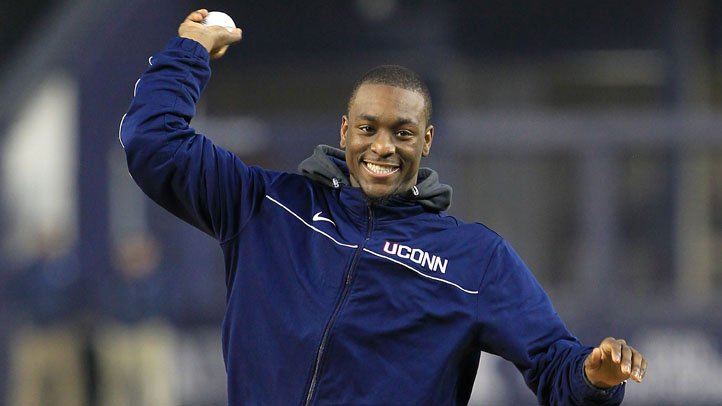 After hosting a clinic for elementary school kids in Avon last week, Kemba Walker spoke to the media about his future. Specifically, what he's doing to promote his personal brand, even if there is no NBA basketball in the near future because of the impending lockout. At the time, Walker said he was working on an endorsement deal with Under Armour.

Well, according to CNBC's Darren Rovell, Under Armour has now signed Walker, making him the first player in this year's NBA draft class to ink a shoe deal. Under Armour, known primarily for its apparel, has been in the basketball shoe business for less than a year.

"If Walker turns out to be the real deal, it might get a little bit awkward," Rovell writes. "He was selected ninth in the draft last month by the Charlotte Bobcats, which is of course owned by Michael Jordan, the greatest shoe endorser of all time."
Nike and Jordan teamed up for the first time in the mid-1980s to introduce Air Jordans, the now-iconic brand that has spawned 26 versions (and counting).

"The basketball shoe market might be the toughest challenge for Under Armour, which hit $1 billion in sales for the first time in 2010," Rovell continues. "Nike and the Jordan Brand, which is owned by Nike, make up 91.5 percent of all basketball shoes, according to SportsOneSource, a sports market retail tracking firm."

Whether Walker's endorsement will have an impact on shoe sales remains to be seen -- at least initially -- because, unlike Kevin Durant or Blake Griffin, he's not being billed as (or expected to be) an NBA star from Day 1. Still, shoes with a face sell better than those without one.

"What is working right now is player endorsed shoes," said SportsOneSource analyst Matt Powell. "UA does not have a strong stable of players."

Rovell reports that Walker signed a multi-year deal but the terms were not disclosed. If Walker can do for Under Armour what he did for the Huskies, it will be a long, mutually beneficial relationship. And so far, so good on that front: UA shares hit an all-time high Tuesday, and the stock is up 46 percent in the last six months.

Kemba joins Milwaukee Bucks guard Brandon Jennings, New England Patriots quarterback Tom Brady, former Auburn quarterback Cam Newton, former Alabama wide receiver Julio Jones, Dallas Cowboys wide receiver Miles Austin and Mets shortstop Jose Reyes as professional athletes under the UA banner.