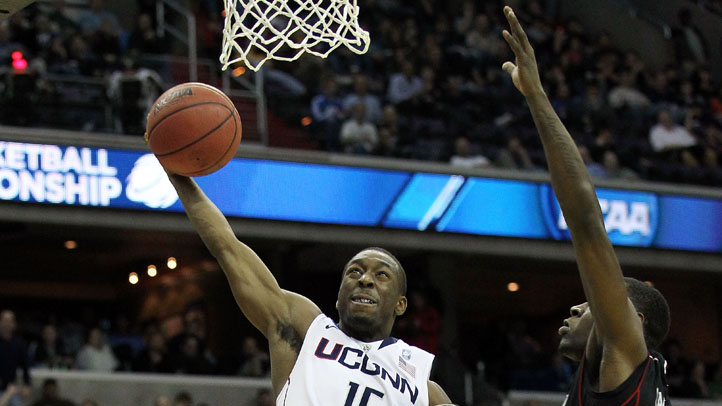 One of the recurring story lines during the basketball season compared Jimmer Fredette to Kemba Walker. Two other-worldly guards who could score at will but with completely different games. Until the final six weeks of the season, when Walker put the Huskies on his back through the Big East and NCAA Tournaments, the consensus seemed to be that Fredette was the better player and would be a better pro.

Now it appears that Walker is the front-runner, at least if NBA mock drafts are any indication. ESPN.com's Chad Ford has Walker ranked ninth on his big board of top 100 NBA prospects. Fredette is 20th.

After Walker announced that he was turning pro earlier this week, sportswriters from across the country weighed in, round table style, on what kind of NBA player Walker would be. Here's a glimpse:

Zach McCann, Orlando Sentinel: "At 5-feet-11, he's undersized but similarly proportioned to NBA starters such as Jameer Nelson and Aaron Brooks."

Jeff Otterbein, Hartford Courant: "It would be foolish to bet against Kemba Walker making it in the NBA. … He'll be a lottery pick and could go as high as No. 5 to Sacramento, though there are those who think it will be No. 9 to Milwaukee."

Lisa Dillman, Los Angeles Times: "… Of course, size, or lack thereof, will be the looming issue. Think more in terms of the next Jonny Flynn instead of the next Derrick Rose."

This isn't he first time Walker and Flynn have been mentioned in the same breath. Tom Ziller of SB Nation, wrote last month about both players, pointing out that after a flourish through the 2009 Big East and NCAA Tournaments, Flynn, then a sophomore, turned pro, going sixth overall to the Timberwolves, "just behind the bigger Tyreke Evans (the eventual Rookie of the Year) and the more wispy Ricky Rubio (still in Spain). Flynn has been, for a number of reasons, pretty close to an unmitigated failure in Minnesota. Coaching and injury have helped, but the Wolves would like a re-do on that pick, no question."

Ziller goes on to show that Walker held the edge over Flynn in some categories (23 points per game to 17; a usage rate of 30 compared to 25), while Flynn shot more efficiently and had more assists. Not only that, but Flynn was a more natural point guard, which is important since there aren't many success stories of 6-1 NBA two-guards.

Finally, Ziller ends with this:
If there's a saving grace in Walker's NBA fate beyond vast personal improvement or some heretofore unseen UConn effect that is preventing Kemba from being as point-guardly as he could be, it's that Walker rarely turns over the ball despite his massive usage rate. Walker averages two turnovers a game for a turnover rate of 10.4. Flynn's turnover rate was nearly double that ... and that's been a big problem at the NBA level. ...Walker doesn't turn the ball over. That reality could -- could -- allow him to be enough of a passing factor to make up for his size issues, which will serve to harm his ability to finish in the lane, get clean looks against NBA defenders and defend longer guards.
If Walker has shown us anything it's that there's no challenge he won't meet head-on. Tuesday, after he announced he was leaving UConn for the NBA, Walker's mother, Andrea Walker, said this about her son. "I've been following him along at every level. I know what Kemba can do. With Kemba, it's like every two or three years he spurts. Give him two years in the NBA and you are all going to be like, 'Is that the same Kemba that went to UConn?' He's going to do something different that you're not going to believe."

The thing is, I'd have very little trouble believing anything Kemba accomplishes.