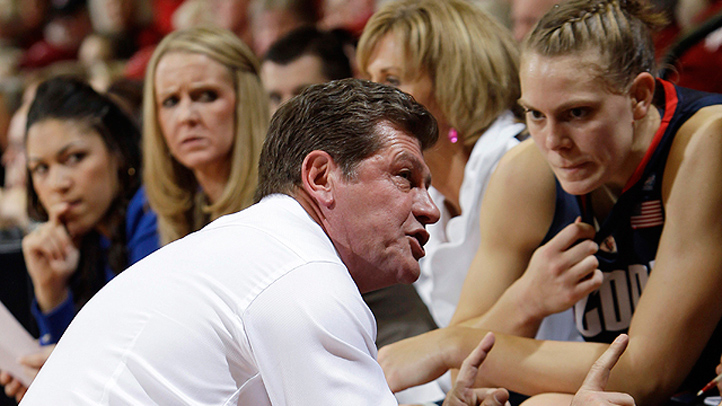 Sometimes freshman show up on campus amid much fanfare, rack up a handful of preseason awards, and then proceed to stumble through parts or all of the regular season. Through no fault of his own, it happened to North Carolina's Harrison Barnes a year ago.

On the other hand, Jeremy Lamb quietly arrived in Storrs, spent the first few months of the season flying under the radar and getting comfortable in his new surroundings, and then proceeded to go off down the stretch helping the Huskies win the national title.

Then there's Kaleena Mosqueda-Lewis, the national high school player of the year in 2010 and one of three highly touted freshmen on the Huskies roster. Coach Geno Auriemma thinks she may be one of the most talented players to come through the program, and through a brief European exhibition and one preseason game, Mosqueda-Lewis played more like a grizzled vet than a fresh-faced kid. Tuesday night, in UConn's second game of the regular season, KML calmly dropped 25 points on Pacific. By the time it was over, the Huskies won going away, 112-53.

KML didn't start, but when she took the floor she clearly made an impact.

"When we get in there we want to be that spark," Mosqueda-Lewis said, via the Associated Press. "We want to be the game changers and we do take a lot of pride in being able to change the game if something is going wrong."

The other two freshmen in the 2011 recruiting class contributed, too. Brianna Banks added 12 points, and Kiah Stokes was good for eight points and four boards.

"I thought [the freshmen] looked a little more comfortable than they did in the two exhibition games and [against Holy Cross] on Sunday," Auriemma said, via the Hartford Courant. It is to be expected that with each game we play that they will get better. We are at the time right now where we're hoping to see some improvement."

Auriemma was more measured than reverential when talking about KML's night, however.

"I think it was a matter of the shots going in. [She] was 10-for-12. I don't know if she's going to shoot 10-for-12 every night. It was one of those days where things went her way, shots went in. [The assistant coaches] need to remind me to take her out because once I put her in; I'm reluctant to take her out."

The Huskies didn't just play their three freshman. Bria Hartley had 18 points, Caroline Doty added 11 points and six assists, and Tiffany Hayes and Kelly Faris each scored 11 points.

UConn also shot 71 percent and led 68-25 at the break. The 68 points tied a team record for most points scored in the first half. The up-tempo style will be a big part of the Huskies' offense this season.

"That's what we're trying to do is basically create enough possessions to overcome whatever we don't know at this point in time and just play," Auriemma said. "We've got four ball handlers out there most of the time and it's good when we touch the ball that we can convert defense to offense pretty quickly."

UConn faces it's first test of the season in six days when they host No. 5 Stanford in the XL Center.