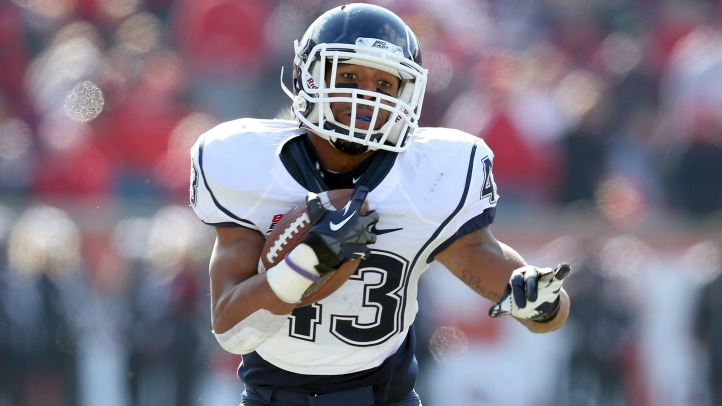 UConn coach Paul Pasqualoni didn't have much to say about running back Joe Williams' indefinite suspension, but he made it clear that the offense needed more consistency from the running game, something that was lacking a year ago.

Any such conversation starts with Lyle McCombs, a freshman All-American in 2011 who struggled to find his stride last season.

"(McCombs) needs to be, as a back you want an approach and a style where you aren't going down on first contact," Pasqualoni said recently. "I think that a little too much last year he went down on the first contact. Sometimes you have to B.Y.O.B — Bring Your Own Blocker."

To that end, McCombs has put on 10 pounds and has taken on more of a leadership role to boot.

"They respect him for his work ethic, but they respect his playmaking ability," new UConn offensive coordinator T.J. Weist said, via the Connecticut Post. "Not only what he's done on the field, but what he's does in practice every day. He can be a leader and lead everybody, but then he produces at the same time. Players respect him offensively and defensively. So he's a leader for the whole team."

And the hope is that he can parlay an offseason of hard work into another 1,000-yard rushing season.

"That would be nice, but ultimately my goal is to get to a bowl game," McCombs said. "It's team goals before individual goals. With team success comes individual success. So I'm looking to win some games, score some points and then the individual stuff will come."

Ultimately, UConn's success on offense will come down to its backfield. Quarterback Chandler Whitmer must continue to improve and McCombs has to be the dominating back he was in 2011.

"Whether it's carrying the ball or putting the ball in his hands, he's got to carry the ball, catch the ball, whatever it is, a good 20 to 25 times in our offense as one of our top playmakers," Weist said. "It's as simple as that. We have to find ways to get him the football. He's an every-down back."