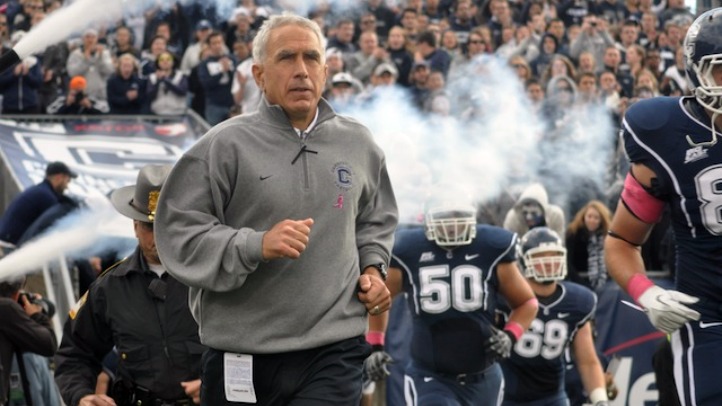 If "back to the drawing board" ever fit a college football team it's the 2011 UConn Huskies. After a week off and plenty of time to prepare for the visiting Louisville Cardinals, the Huskies came out flat, mistakes were rampant, and when it was over, they had lost another winnable game, this time 34-20.

"It's very disappointing," UConn coach Paul Pasqualoni said. "At this point in the season they're all disappointing. With our conference the way it is, it's very disappointing. Where this win would have put us would have been a lot of fun."

So what, specifically, was so disappointing? For starters, quarterback Johnny McEntee played pretty well. At the very least, he was more decisive in the pocket, and he threw the ball accurately for most of the day. Of course, you wouldn't know that to look at his stats. He finished the day 18 of 43 for 253 yards (1 TD, 1 INT) … but would-be Huskies receivers dropped nine (NINE!) passes.

"I guess we had a little more than usual but all those receivers and tight ends work really hard, they're always catching after practice," McEntee said. "I know it was just a one-game kind of a fluke thing because they're working hard every day at catching the ball."

Pasqualoni was less interested in reliving the horror.

"It's hard to talk about. You saw it," he said. "Why? I can't tell you that. We caught the ball well all week in practice. It was very difficult for us today. Some of those drops were key plays."

The drops weren't just isolated to the offense. In the fourth quarter, cornerback Blidi Wreh-Wilson dropped a sure interception, one that could have changed the momentum and perhaps the outcome. Instead, the pass fell harmlessly to the turf. The Cardinals went on to score a touchdown on the drive.

"It was a big play," Wreh-Wilson said, via the Hartford Courant. "It was a routine play I've got to make. We practice ball drills. I have to make that play. I saw it come out a little high and two guys went up for it. … It's just a play I have to make."

Things got off to a rough start when Louisville returned the opening kickoff 100 yards for a touchdown, and it was 14-0 before UConn got on the board. There's a school of thought that the bye week, while great for getting players healthy, can also be detrimental. Patriots head coach Bill Belichick thinks the week off leaves players rusty and the fundamentals suffer. That certainly appeared to be the case for UConn Saturday.

"There's always the unknown on a bye week," Pasqualoni said. "Nobody has a secret formula for how you handle the off week and you try to do what you feel is best and you always hope you come back and regain the momentum you had before you had the bye week. Obviously that didn't happen. We just did not play well."

Not playing well has been a recurring theme this season, though a win against Louisville would have put the Huskies at 5-5 and in great shape for a run at a bowl game. Instead, they're 4-6 with two games to go. Next up: Rutgers comes to Rentschler Field Saturday.