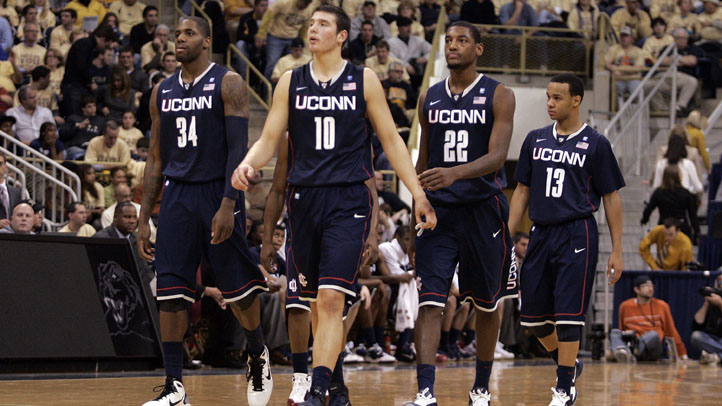 Rising sophomores Jeremy Lamb was off playing with the Under-19 US National team and Neils Giffey was at home in Germany, but every other member of the 2011-2012 UConn men's basketball team showed up at Gampel Pavilion Tuesday night for a little pickup basketball.

Clearly, it wasn't an official practice, but it offered a preview of things to come as the Huskies prepare to defend their national title. The Hartford Courant's Mike Anthony was on hand and hit the highlights in his blog this morning.

With Kemba Walker now in Charlotte, there are huge holes to fill. Not only in terms of roster depth and points, but leadership. The former will be easier to replace than the latter, especially since UConn has two incoming freshmen, both potentially big-time players: guard Ryan Boatright and forward DeAndre Daniels.

But before we get to their performances Tuesday night, Anthony writes that the most impressive player on the floor was guard Shabazz Napier. He's almost been forgotten this offseason, with Walker's NBA preparations and the expectations for Lamb going forward. But Napier was a critical part of UConn's title run, playing valuable minutes during the 11-game undefeated post-season stretch, and giving Walker breathers he wasn't afforded earlier in the year.

"[Napier] made, I think, his first eight shots, but it wasn't just that," Anthony writes. "He's put on a good deal of muscle - 10 pounds, he said. He's much thicker in the arms and shoulders. He also barked orders, acting like the co-captain that he is (with Alex Oriakhi) and showed all kinds of patience and precision in distributing the ball."

Which is exactly what you want to hear in a post-Kemba UConn world.

"I feel great," said Napier. "I think this season is a good chance for me to showcase what I've got and help the team win games."

As for the freshmen, Anthony has the lowdown:
Boatright can be electric, really quick with the ball. And he showed some range and a finishing touch. But he also took a lot of bad shots and sometimes made moves that were unnecessary. This is typical for a freshman. The jump from high school to college is like leaping into another world. …

DeAndre Daniels is smooth. He didn't take over any stretches of pickup, but he made smart, solid plays. He will likely show more of a scorer's mentality as he acclimates and puts on weight. He's wiry, that's for sure.
"Moves I made in high school to get open, it doesn't work here," Boatright said, according to Anthony. "I've already noticed that, at this level, I have to make another move to get there."

"His athleticism, he's dynamic in the way he plays, and his personality, too," assistant coach Glen Miller added. "He's been great."

Napier called Daniels "an incredible athlete … "He gets up and down the floor real good, shot looks good. He needs a little more weight; he's kind of skinny. But he can be a great asset for our team."

After a rough patch in May with the NCAA sanctions for poor academic performance, and Jamal Coombs-McDaniels' arrest and subsequent transfer, suddenly the basketball program seems to be in great shape. Now all that's left is for Jim Calhoun to announce what we all figure is a foregone conclusion: he'll coach this season.