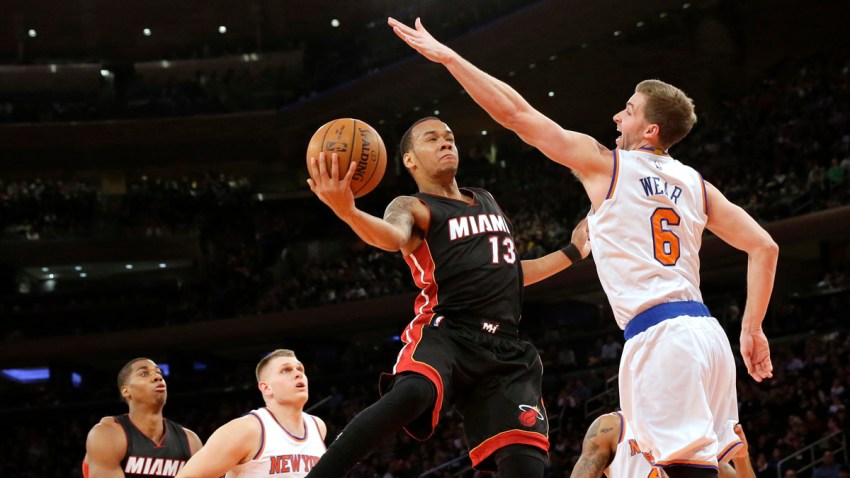 A year ago, Shabazz Napier was leading the Huskies to a national title. A few months later, he was an NBA first-round pick, headed for Miami and LeBron. Except LeBron returned to Cleveland and Napier's first year of professional basketball didn't go quite as smoothly as a lot of people expected.

But he knows that basketball, in just about any form, isn't a sprint but a marathon.

"It's a process," Napier said recently, according to the Hartford Courant, "like it was when I was a freshman. It's a process, just trying to continue to learn from my coaches and my teammates. ...

"It's all in due time," he continued. "Like when I was a freshman. It's just a matter of being patient and believing in the process. I still don't get down on myself, not to a point were I'm not focused on the future."

Heat coach Eric Spoelstra thinks Napier, all things considered, is coming along nicely for a rookie.

"The best part about [Napier's rookie season] is that is he has had significant playing time for a young player, which normally doesn't happen on a playoff-type team," Spoelstra said. "So he's gained valuable experience. It's better than playing for a lottery team, and getting more minutes, when you have to earn your minutes and be expected to produce on a team that's trying to make the playoffs. It makes it that much more impactful."

Napier will be fine. He's a grinder, just like in college, and that worked out pretty well for him. Meanwhile, his former teammate, Ryan Boatright, is hoping to have an NBA career, though the knock on him is that he's too small.

"Of course," Napier said when asked if Boatright can compete in the NBA. "Of course. Anybody who puts their mind to it, gives up everything, sacrifices for it, can make it here."