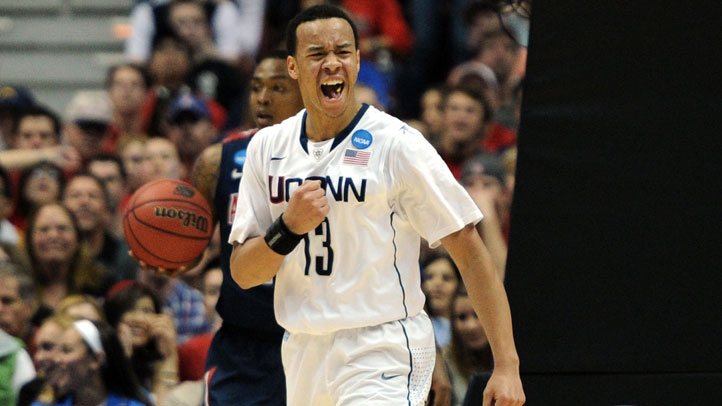 Last week, rising junior guard Shabazz Napier opted not to play for the Puerto Rican National Team in next month's London Olympics after feeling discomfort in his right foot, an injury that bothered him at points during the 2011-12 college season.

He made the decision to avoid doing further damage and possibly missing action this fall. Over the weekend, the Hartford Courant's Dom Amore wrote that Napier will wear a walking boot for six weeks.
UConn's medical staff says the injury is symptomatic of discomfort in that foot. It's the same foot, but not necessarily the same injury, that hampered Napier last season. Napier injured his foot at South Florida on Dec. 28. He is home in Boston now, wearing the boot to relieve pressure on the foot. He is expected back on campus next week for the second session of summer courses.
The Huskies are in transition; a year ago they were just a few months removed from an improbable national title and Napier was primed to help fill the leadership void left by Kemba Walker's NBA departure. He was one of Jim Calhoun's diamond-in-the-rough New England pipeline recruits who played beyond anyone's expectations as a freshman. But last season, everybody struggled and Napier wasn't immune to inconsistencies from one game to the next. The cumulative result: an up and down season for the Huskies, a disappointing second-round departure in the NCAA Tournament, and an uncertain future thanks five players leaving the program because of impending NCAA sanctions for low APR scores.

To Napier's credit, he's not interested in making excuses. Last month, he said of the 2013 postseason ban: "We just have to take what's given to us, accept it and move on."

And added this concerning the three players (Alex Oriakhi, Roscoe Smith, Michael Bradley) who transferred out of UConn because of said ban: "It's sad that we can't play in the NCAA tournament or the Big East tournament, but those are things you have to deal with. Like I said, some people deal with them, some people run away. It's how you're born. It' s how you live your life."

Napier's not going anywhere, including the Olympics, but that's because he solely focused on helping the Huskies return to prominence. And a big part of that will be dependent on him.