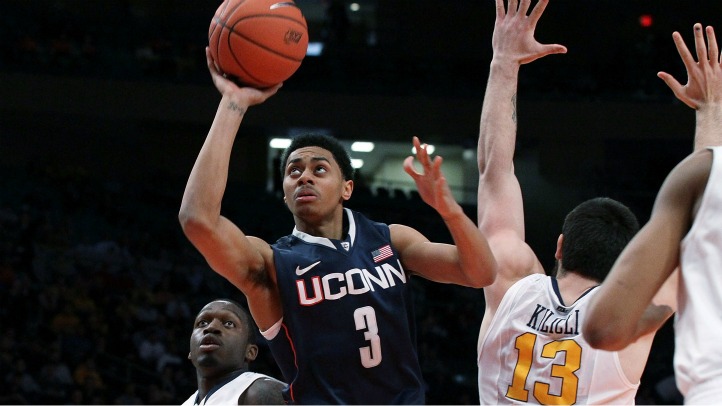 The New Orleans Hornets won the NBA Draft lottery Wednesday night, which means we now know where former Kentucky big man Anthony Davis will play next season. More than that, the lottery helps determine how the rest of the first round will shake out, too. And for our purposes, that means where former Huskies Jeremy Lamb and Andre Drummond will begin their professional careers.

Lamb, a 6-5 shooting guard, is the more accomplished of the two but Drummond, a 6-10 physical specimen, has the measurables scouts, coaches and front-office types envision when they're putting together a team.

The draft hasn't changed the fact that Drummond will likely be the second big man off the board when the draft takes place next month. The question now is where will he end up? ESPN.com's Chad Ford wasted little time updating his mock draft to reflect the draft lottery results. He has the Portland Trail Blazers taking Drummond sixth overall.

"This could be a scary pick for Portland. At some point Drummond's rewards start to outweigh his risks. I think this may be the point. If not, I think the Trail Blazers have to start looking at players such as Damian Lillard or Dion Waiters. Maybe they can package picks Nos. 6 and 11 and move up to get a player such as Brad Beal."

Beal, whom Ford has going No. 3 to the Wizards, is widely considered the best shooting guard in the draft. Behind him? Lamb. And he lasts until pick No. 11 where he's taken by -- wait for it -- Portland. The details:

"The Blazers really need a point guard. But with Lillard off the board, I wouldn't be surprised if they pulled the trigger on Jeremy Lamb, who could go anywhere from No. 6 to No. 13 on draft night. Portland's scouting staff has been high on him for the past year and, though he wouldn't fill a primary need, he has the talent to eventually earn a spot as the team's starting 2-guard."

Portland's staff isn't alone. Former college coach-turned-ESPN analyst Fran Fraschilla agrees, noting earlier this month that if it came down to Beal or Lamb, he's "leaning toward Lamb."

Meanwhile, the CBSSports.com post-lottery mock draft has Drummond going third to the Wizards and Lamb not getting past Toronto at No. 8.