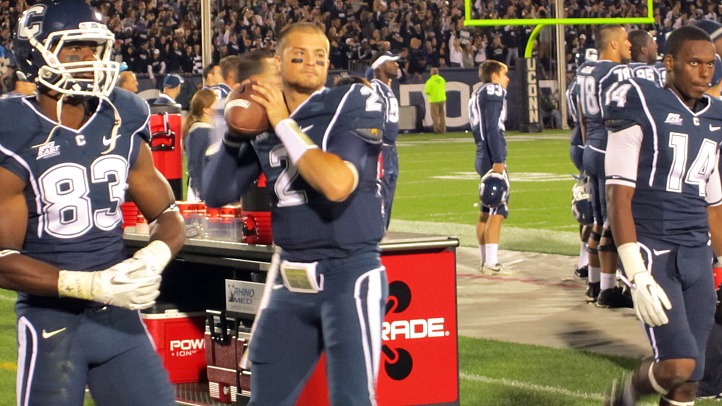 Last summer, it was Michael Box, after falling down the depth chart early in training camp, who decided to transfer. A year later, sophomore Michael Nebrich, who appeared in eight games in 2011, has done the same. On Wednesday, shortly after the school officially announced the departure, Nebrich spoke with the Hartford Courant's Desmond Conner about his decision.

"It doesn't really have anything to do with how I was practicing or the whole playing time-aspect," Nebrich said. "In my heart I just felt it was the right time to go, the right move for me, so I just think personally it's the right decision for me. I feel like it's the right time to step away and try something new."

Interestingly, Nebrich said this had nothing to do with coach Paul Pasqualoni naming Chandler Whitmer the starter last week.

"(In) talking with Coach [Paul] Pasqualoni and [Quarterbacks coach Shane] Day it didn't matter who was No.1 or No.2 going into it," he told Conner. "I was going to see the field this year anyway so the playing time aspect wasn't really a factor for me. It was more of a personal issue. I just felt it was right to move on and start something new. That's how I made the decision."

Players transfer every year for various reasons. Whether it's related to playing time or not, It's hard to fault Nebrich for leaving UConn after one season. It's his life, football won't last forever, and he has to decide what's in his best interest. There's certainly nothing wrong with that. As for the immediate future -- whether Nebrich will move to an FBS or FCS school (the former would require him to sit out a year, the latter would allow him to play immediately), he's undecided.

"I don't know, Nebrich said. "I just got released this morning so I'll head home tomorrow, talk to my high school head coach and we'll see where things will end up but right now I don't know what road I'm going to take. I'm not set on anything. I'm open to anything, any school but for me the most important factor in this decision will be going someplace where I'm going to be happy doing what I'm doing – doesn't matter what level it's at."

As it stands, Whitmer is No. 1 on the depth chart followed by (in random order) Johnny McEntee, Scott McCummings and freshman Casey Cochran.