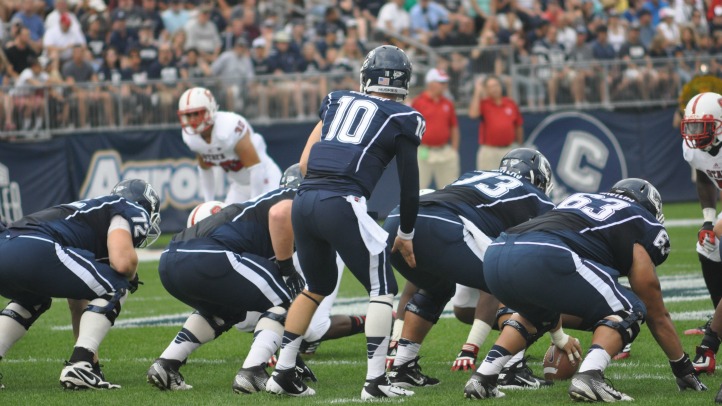 We spent a good number of words on redshirt sophomore quarterback Chandler Whitmer and what he can do to improve, from being more decisive in the pocket to not staring down his receivers. But it's not all on Whitmer and, truth be told, he's a substantial upgrade over last season's quarterback situation. Coach Paul Pasqualoni talked about other, indirect ways Whitmer can get better and it starts with the five guys tasked with protecting him.

"Right now we are still working through the film and I haven't decided on any changes at this point," Pasqualoni said Sunday, a day after the lost to NC State (via the Journal Inquirer). "If we do (make a change), I would announce it during the week. This week from an offensive standpoint each position group, each unit could have done better which in the end could have resulted in a couple more plays which would have put us in position to win the game. It is just a matter of everybody doing a little more, doing a little better."

Basically, Pasqualoni's frustration stemmed from a veteran bunch struggling with issues that usually plague a much younger group.

"What we saw on the film was not good execution and not consistent enough execution," he said. "We had 15 drives in the game and in 14 of those drives we made a mistake that really put us behind the chains or there was a turnover created. I would say it is just a lack of consistency."

Senior right guard Adam Masters agreed, but thinks the issues can be fixed as the unit become more comfortable working together.

"Our offensive line, physically, is capable of competing with any defensive front in the nation. I honestly believe that," Masters told the Hartford Courant's Desmond Conner Tuesday. "The issue is, all it takes is one minor breakdown, one person missing his assignment and that can blow the play up. We've had that. We had a lot of self-inflicted wounds and that was basically the downfall of the game on Saturday." Improved performance by the offensive line certainly would make Whitmer's job easier. It would also mean bigger holes for running back Lyle McCombs which, again, would benefit Whitmer and the passing game. Whether it all comes together this weekend against Maryland is another issue. And even though Pasqualoni is downplaying the Edsall Bowl, it would be nice to beat the man who left UConn two years ago for what he thought was a better gig.