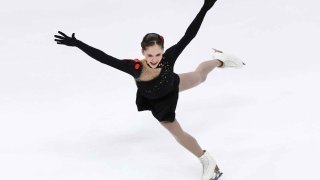 The third day of competition at the U.S. Figure Skating Championship in San Jose, Calif. has wrapped and we have a new champion in the women's single competition.
Fifteen-year-old Isabeau Levito held off two-time U.S. champion and 2018 Olympian Brandi Tennell to win the women's championship.
"I was just so proud of myself for staying so calm and staying so focused, doing exactly what I aimed to do," Levito said on NBC. "I'm ready to start bouncing off the walls."
Less than six points behind Tennell was Amber Glenn. Gleen entered last year's competition with Olympic hopes, but finished 14th in the short program before testing positive for COVID-19 and withdrawing from the free skate.
While traditional favorites Nathan Chen and Vincent Zhou aren't competing this season, the men's short program still provided plenty of entertainment, headlined by Ilia Malinin who edged out Jason Brown by 110.36 to 100.25.
The teenager made headlines at last year's competition when he finished third in the event, but was ultimately passed over for the veteran Brown for a spot on the Olympic roster.
In third place is Tomoki Hiwatashi with 85.43 points.
The trio -- and 15 other contenders -- will return Sunday for the free skate portion of the competition.