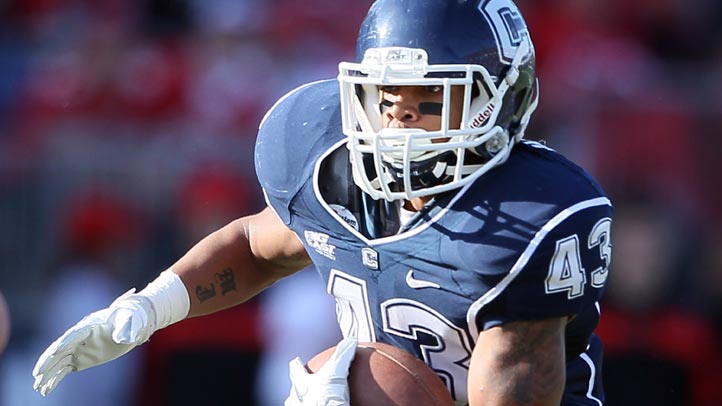 With running back Joe Williams suspended indefinitely, the Huskies suddenly have depth concerns at the position behind Lyle McCombs. Williams was vying for the backup job, which now seems like Max DeLorenzo's to lose.

Coach Paul Pasqualoni chose his words carefully when discussing Williams, but had only positive things to say about DeLorenzo's game.

"I don't know we'll have to wait and see what the final results are," the coach said of Williams' situation (via the New Haven Register). "That's all I can say; I can't comment. We'll go through the process and see. …

"[Max is] a tailback who doesn't go down in first contact," Pasqualoni said. "You hit him low, he has a low base and a wider end and a pretty good anchor. He's hard to get down on first contact."

McCombs, meanwhile, is looking to rebound from a forgettable sophomore season after a freshman All-American effort in 2011.
"The thing he has to do is stay within the structure of the play and not do too much," Pasqualoni said, via SNY.com. "He's playing within the structure of the run and making the right cuts right now and taking what you can get. An efficient play is 4 yards. If you get through the season and average 4.0 yards you are happy with those plays, no matter what league you are in."

In general, Pasqualoni wants more consistency out of a phase of the game that was maddeningly inconsistent a year ago.

"(McCombs) needs to me, as a back you want an approach and a style where you aren't going down on first contact," the coach said. "I think that a little too much last year he went down on the first contact. Sometimes you have to B.Y.O.B — Bring Your Own Blocker."