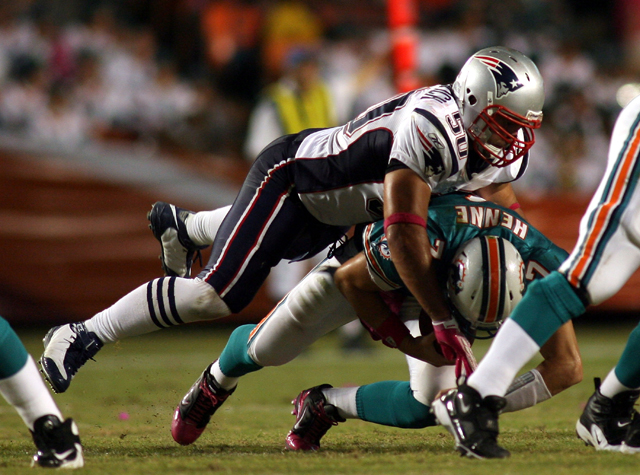 It was a whale of New England Patriots effort against the Dolphins Monday night – a blocked punt, a blocked field goal and an interception returned for a touchdown.
Those aren't New England's numbers. That's the stat line for just one player.
Patriots' second-year safety, Patrick Chung, had his coming out party as an elite special teams player and the Patriots scored five touchdowns in the second half to plaster the Miami Dolphins, 41-14, at what they currently call Sun Life Stadium.
Chung blocked a punt in the third quarter when the Patriots were still up by only six points, giving New England the ball at the Miami 15. Then Chung blocked a Miami field goal attempt in the fourth, which Kyle Arrington grabbed and dashed for a Patriots touchdown.
By the time Chung added a pick six to the evening's proceedings, the game was already out of reach for the Dolphins.
You might have seen all the holes in your special teams blocking, Dolphins coach Tony Sparano, if you hadn't worn dark sunglasses for a nighttime game.
But early on, it was the Patriots' defense looking ridiculous. Chad Henne completed his first seven passes in a row, including a 19-yard touchdown to Davone Bess to make it 7-0. The Patriots' first quarter tackling in Miami would have been labeled SPF 0.
But when Chad Henne starts throwing you interceptions, poor tackling is not so much of a liability.
Patriots outside linebacker Rob Ninkovich picked off Henne once in the first quarter and again in the second, both times in Dolphins field goal range. Both picks led the other way to Steven Gostkowski field goals and the Patriots were down 7-6 at halftime.
They took the lead 13 seconds into the third quarter and then just kept finding fantastic new ways to embarrass Miami's kicking teams.
Brandon Tate ran the second half kickoff 103 yards for a touchdown, and not one Dolphin defender got a hand on him.
In between the mash of monster special teams plays, the Patriots added a couple conventional offensive touchdowns in the third quarter. BenJarvus Green-Ellis barreled for a 12-yard touchdown run, and Danny Woodhead bought himself another week of cult heroism with an 11-yard touchdown catch.
It was Tom Brady's 100th career win. He was 19-of-24 for a touchdown and no picks, and a supermodel quarterback rating of 107.1.
The Patriots are now 3-1 and heading into their bye week. The division-leading Jets do not have the week off, hosting Minnesota on Monday night.
Joe Kukura is a freelance writer who kept accidentally saying "Chad Hennington" all night.
Copyright FREEL - NBC Local Media