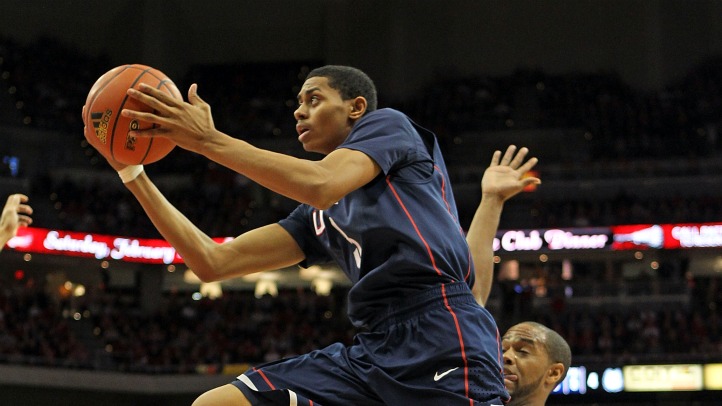 On April 6, two days after the Huskies won the national championship, ESPN.com's Andy Katz put out his very early 2011-2012 top-25 preseason poll. He ranked UConn No. 5 heading into 2011-12, based on the late-season emergence of Jeremy Lamb, Alex Oriakhi and Shabazz Napier, as well as the the off-the-bench contributions from the likes of Roscoe Smith, Jamal Coombs-McDaniel, Niels Giffey and Tyler Olander.

Now, a month later, Katz has updated his top 25, and the Huskies have fallen one spot to No. 6. He has Duke moving up from No. 6 to No. 5 to replace UConn, even though the Blue Devils lost Nolan Smith, Kyle Singler and the likely No. 1 pick in next month's NBA Draft, Kyrie Irving.
As for UConn, Katz writes, "The national champs lost their MVP, Kemba Walker, but Jeremy Lamb didn't take the NBA bait. His return means the Huskies have a solid core of players who have as much experience as any other squad. Shabazz Napier can emerge as a big-time point guard, Lamb as an All-American and Alex Oriakhi an anchor inside." (The rest of Katz's top five: UNC, Kentucky, Ohio St., and Syracuse.)

Walker's gone; the Huskies lost assistant coach Andre LaFleur, their best recruiter; Jim Calhoun has yet to commit to coaching next season; Coombs-McDaniel is transferring; possible academic sanctions loom; and there is only one incoming recruit.

So, yes, given all that's happened in the last month, No. 6 sounds high. Which might have something to do with why NBCSports.com's Beyond the Arc have the Huskies 13th in their über-early preseason rankings. Mike Miller notes that, "There's no lack of talent in Storrs, and 5-star prospect [Ryan] Boatright only adds to that mix. More impressive was that the Huskies didn't play like a young team in 2010-11. But … that was with Kemba running the show and making plays when needed. When he struggled, the Huskies struggled, thus their 9th place finish in the Big East. They'll miss him at times."

Miller has the Huskies behind Big East rivals Cincinnati (12th), Pitt (10th), Louisville (8th), and Syracuse (4th).

There are worse preseason fates, however. Last September, the Huskies were unranked (although in the end, things turned out pretty well). And Yahoo cites UConn as one of the draft deadline winners. Yes, they lost Kemba Walker, the best player in school history, to the NBA, but Jeremy Lamb is returning for his sophomore season.

"Lamb's brilliant NCAA tournament could have catapulted him into the first round of this June's draft," Yahoo's Jeff Eisenberg writes, "but the freshman guard wisely decided to stay in school and take advantage of the chance to be UConn's No. 1 option. His return gives the Huskies a chance to remain among the Big East's elite despite the graduation of … Walker."

After the NCAA Tournament, we heard rumblings that Lamb might get drafted if he left school, but the consensus seemed to be that he should stay in Storrs. Either way, Lamb will be critical to UConn's success next season and without him the Huskies would be facing long odds to finish at .500 in 2011-12.