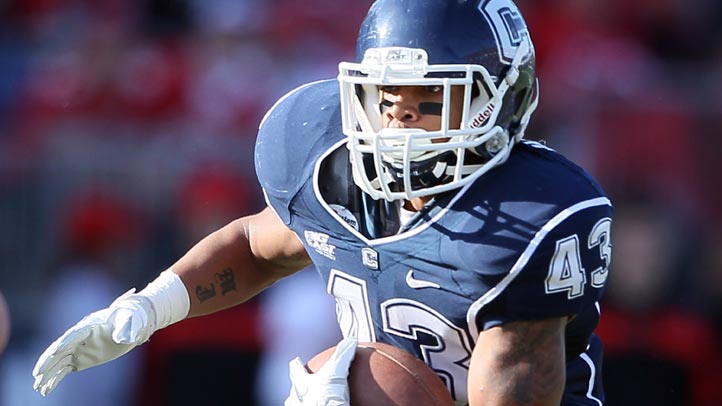 It wasn't mentioned once during ESPN3's telecast of the Temple-UConn game, but one of the Huskies best offensive weapons, sophomore running back Lyle McCombs, spent the afternoon on the bench because he injured his left hand during last week's loss to Rutgers and his ability to hold onto the ball was a concern.

It had nothing to do with McCombs' arrest the day before the Rutgers game, when he and his girlfriend were charged with second-degree breach of peace. He sat out the first quarter of the Rutgers game and coach Paul Pasqualoni said days later that the punishment was sufficient.

The thinking was that McCombs would be in the lineup when the Huskies hosted the Owls. Instead, redshirt freshman Max DeLorenzo got the nod. He came into the game with 8 rushes for 27 yards. He fared well in his debut, carrying the ball 23 times for 91 yards. Freshman Joseph Williams added three carries for six yards, and Martin Hyppolite rushed twice for four yards.

Pasqualoni said last week that the running game needed to improve, but it wasn't much different than what we'd seen with McCombs in the lineup (Pasqualoni could've made those comments working from the assumption that McCombs would play).

However you grade the running game's performance, it played no part in the Huskies' latest loss. That was truly a team effort spanning all three phases and extending to the coaching staff.

Now 3-4 and 0-2 in the Big East, the Huskies have again put them between a rock and a hard place. They face Syracuse on the road this Friday and if they don't win there, their bowl hopes are all but over. Of course, that's a ridiculous conversation to be having for a team that not only can't win its homecoming game but has yet to put together back-to-back victories in the Pasqualoni era.