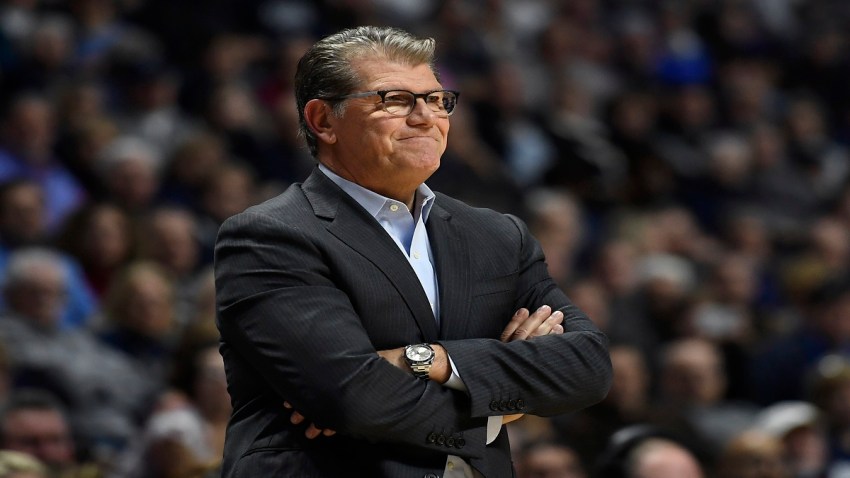 Playing before a packed house in her native Canada, UConn guard Kia Nurse enjoyed a rare opportunity to sing her own national anthem before a game.
Nurse scored 24 points and No. 1 UConn posted its biggest victory of the season, routing Duquesne 104-52 on Friday night.
"To come here and be surrounded by so much love and so much appreciation by the best country in the world and sing my national anthem before a game was the best part," Nurse said. "I put my heart and soul into that one."
Katie Lou Samuelson led the way with a season-high 33 points for the Huskies. She made 8 of 9 3-point attempts, including seven straight in the second and third quarters before taking the rest of the night off.
"My teammates were getting me the ball as much as they could," Samuelson said. "My shot felt really good so I just kept shooting."
Chassidy Omogrosso scored 15 points and Libby Bazelak had 14 for Duquesne (10-3), which had won eight in a row.
The game was a homecoming of sorts for Nurse. The senior forward from nearby Hamilton, Ontario, received a rousing ovation from the sellout crowd when she was introduced as UConn's final starter.
Nurse got another ovation when she checked out with 3:24 remaining and her team leading 98-50.
"I know she really appreciates it and we enjoyed doing it," Auriemma said of the game at Mattamy Athletic Centre.
Nurse finished with five rebounds and two assists. She was 9 for 11 from the field. Both her misses were air balls.
A smiling Nurse stood near center court and waved to the crowd following the final buzzer.
"My grandparents got to see me for the first time in a Connecticut jersey," Nurse said. "That's something that's really special. I'm excited to go hug them."
Napheesa Collier scored 15 points and Gabby Williams had 12 for the Huskies, who eclipsed the 45-point margin of victory they recorded in an 82-47 win over California on Nov. 17.
Three days after beating Oklahoma to give Auriemma his 1,000th career victory, the Huskies (10-0) won for the 101st time in 102 games heading into a Christmas break that lasts until practice resumes on Dec. 28.
"Two games where we got to have a lot of fun and forget about a lot of stuff and just enjoy the moment," Williams said. "It's good to go home on that note."
Auriemma said it was a good time for his players to take a break from basketball.
"It's been a long grind," Auriemma said. "We started in August and then the trip to the West Coast took a lot out of us."
Samuelson scored 14 points in the second quarter, making all three of her 3-point attempts, while Nurse had nine. The Huskies led 54-22 at halftime.
SPECIAL GUEST
Toronto Raptors coach Dwane Casey attended the game with his family.
TIP-INS
Duquesne: The Dukes had not lost since an 81-77 defeat at East Tennessee State on Nov. 19. ... Duquesne has two Canadians players. Guard Halle Bovell is also from Hamilton, Ontario, while guard Anie-Pier Samson is from Saint-Bruno, Quebec.
UConn: Williams and Crystal Dangerfield each had six assists. ... Collier and Williams led the Huskies with eight rebounds apiece.
UP NEXT
Duquesne: Returns home to face UMass on Dec. 31.
UConn: Faces Memphis in Hartford on Dec. 31.
Copyright AP - Associated Press