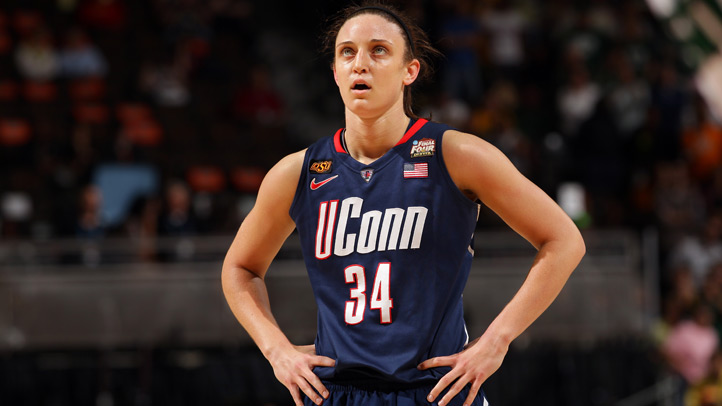 It wasn't the end to the regular season the Huskies were looking for, dropping their second game of the season to Notre Dame, and their sixth in their last seven tries. But this UConn team was built for the long haul and as far as coach Geno Auriemma is concerned, the season starts now. But before we officially look ahead to the Big East Tournament, we'll take a moment to recognize what the Huskies accomplished from November through early March with the understand that there's a lot of basketball to be played.

We mention this because six Huskies were the recipients of postseason Big East honors Thursday, the conference announced. Details via UConnHuskies.com:
Kelly Faris was selected the BIG EAST Defensive Player of the Year and shares the Most Improved Player of the Year award with DePaul's Brittany Hrynko, while also earning a seat on the All-BIG EAST Second Team. Sophomore forward Kaleena Mosqueda-Lewis was a unanimous All-BIG EAST First Team Selection and was joined by Stefanie Dolson who was also a First Team selection. Additionally, Bria Hartley and Breanna Stewart are BIG EAST Honorable Mention. Finally, Stewart and Moriah Jefferson were selected to the All-Freshman Team.
Faris' honors are well-deserved and her leadership will undoubtedly be missed when she takes her game to the WNBA next season.

"Kelly definitely deserve it [the defensive player]," Auriemma said via the Hartford Courant. "When you work so hard at something, it's nice to see it rewarded. Most times it's the shot-blockers that get the notice. What Kelly does is not so obvious."

But Faris, who tweaked her ankle just before halftime against Notre Dame, didn't practice Thursday.

"It's not 100 percent that she will play [this weekend], but there's a good possibility she will," Auriemma said. "With the right exercise and rehab, she should be fine."

Faris was a tad more straightforward than that.

"Not playing is not really a thought," Faris said. "Not playing is not an option at all. I'm just happy it wasn't worse than a couple of sprained ligaments. So I'm resting it."

Meanwhile, the most surprising news regarding postseason awards isn't that Stewart was Big East honorable mention (after a fast start, she struggled with consistency the last few months -- completely understandable given that she's been out of high school for eight months) but that Hartley was.

The junior guard has had an up and down season and both extremes to her game were on full display against the Fighting Irish. We're guessing she (with Auriemma's help, no doubt) will use this as motivation looking ahead.