Swimmers raced their way to win multiple medals and we got a look at Simone Biles and the other U.S. women's gymnasts competing in Tokyo overnight. Skateboarding also made its Olympic debut.
Swimming awards its first medals
Speaking of medals, Team USA won its first of many medals as several American Olympians finished at the podium Saturday.
Our first Connecticut Olympian took a shot at the podium and won bronze during the 400m freestyle.
Ridgefield's Kieran Smith finished sixth in the men's 400m freestyle heats Saturday morning. His time of 3:45:25 was enough to get him in the finals where he finished in third with a time of 3:43.94.
The other Team USA swimmer, Jake Mitchell, finished in eighth place with a time of 3:45.39.
You can watch a replay of Smith's heat here.
The swimming events began at 9:30 p.m. ET, and the first medals were awarded in swimming with finals in four events: men's 400m individual medley (IM), men's 400m freestyle, women's 400m IM and women's 4x100m relay.
The men's 400m IM final featured a pair of Americans: Chase Kalisz and Jay Litherland, who took the gold and silver, respectively.
Emma Weyant dominated the women's 400m IM heats and took home the silver.
It was undecided whether Simone Manuel would swim for Team USA in the 4x100m freestyle on Friday night. As it turns out, Team USA would go with three new participants in the final, with Natalie Hinds as the only swimmer to compete in both heats and the final round.
With new participants Manuel, Erika Brown, and Abbey Weitzeil joining Hinds, the quartet earned a bronze medal for Team USA.
Simone Biles Leads All-Around in Quest for Gold in Tokyo
Simone Biles and the rest of the U.S. women's gymnastics team competed in the qualifying round Sunday at 2 a.m. ET as they began their quest for a third straight team gold. Although Team USA's place in the finals is all but secured, the qualification will also determine which athletes make the finals of the individual events.
With a score of 14.133 on floor exercise, 14.066 on beam, 14.966 on vault and 14.566 on uneven bars, Biles finished with a score of 57.731.
Just behind her is Lee, who topped Biles on beam with a 14.200 and uneven bars with a 15.200. Lee also scored 13.433 on floor and 14.333 on vault for a total of 57.166.
As for the other members of the U.S. through the first three subdivisions, Carey currently sits in seventh with a 56.265, Skinner is eighth with a 55.398, McCallum is tenth with a 55.165 and Chilies, who struggled on bars and beam, is 25th with a 52.698.
As a team, the United States' score of 170.562 is currently second behind the Russian Olympic Committee's 171.629. China sits in third with a 166.863, Great Britain is fourth with a 163.396 and Italy is fifth with a 163.330.
Since only two athletes from each country can move on to the finals, some of the Americans will be on the outside looking in no matter how well they perform. Biles is a lock for the vault, where she is expected to debut the Yurchenko double pike, but both Jade Carey and MyKayla Skinner are talented vaulters hoping to be the one to join Biles in the final.
You can watch the replay here. Team USA's qualification will also be shown on NBC on Sunday night at 7 p.m. ET.
Nyjah Huston Places Seventh at Inaugural Olympic Skateboarding Competition
Skateboarding made its Olympic debut at 7:30 p.m. ET, with American star Nyjah Huston looking to win gold in the men's street event.
Despite being a favorite in the inaugural Olympic skateboarding competition, Huston placed seventh with a score of 26.10.
Huston is a four-time world champion with golds at the World Skateboarding Championships in 2014, 2017, 2018 and 2019. He also has 18 X Games medals with 16 coming in the street event. He is the highest-paid skateboarder in the world.
American Jagger Eaton earned bronze with a score of 35.35.
Old Saybrook's Alexis Sablone, Mariah Duran, and Alana Smith will represent the U.S. in the women's street event tomorrow.
Watch the finals beginning at 11:25 p.m. ET here. The finals will also be shown on NBC at midnight ET Sunday.
Team USA loses to France in men's basketball
After going 2-2 in exhibition games, Team USA lost to France in a stunning fashion in its opening game in Tokyo.
Team USA has dominated the competition in its Olympic history, winning 15 gold medals since 1936.
However, Gregg Popovich's team experienced a shaky start in their exhibition matches, falling to Nigeria and Australia. The team bounced back with exhibition wins over Argentina and Spain and entered the Olympic competition with some momentum.
Team USA lost to France with a score of 83 to 76.
The game will be shown again on NBC's afternoon coverage beginning at 1:30 p.m. ET.
American surfers Carissa Moore and Caroline Marks advance to third round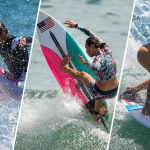 All four Americans have advanced to the third round of the first-ever Olympic surfing event that took place on Saturday night ET.
Carissa Moore is the gold medal favorite for the women, and 19-year-old Caroline Marks could also contend for a medal. Expectations are lower for the American men, with both Kolohe Andino and John John Florence coming off injuries.
You can watch a replay of the men's second round and the women's second round.