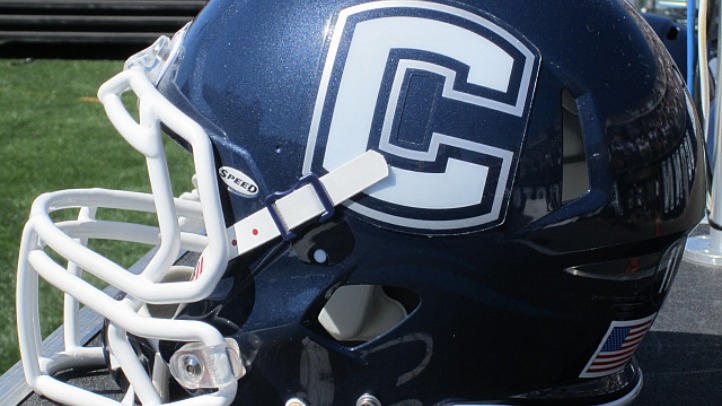 It happens every year around this time: Players leave the program, either by transferring, or deciding that their dreams of professional football won't be realized and that it's time to pursue other goals. This week, it was announced that freshman linebacker Cory Jasudowich will transfer, and walk-ons, freshman DB Sir-Tay Jackson and sophomore TE James Horan have left the team.

Freshman defensive tackle Michael Boland, who had signed a letter of intent, will take the scholarship Jasudowich gave up as a transfer. Boland, from Dunmore, Pa., is listed at 6-2, 265. He was slated to go to prep school because, as SNY.com's John Silver writes, "The Huskies had more players committed than scholarships available and Boland was going to enroll in prep school this semester." Now that's not an issue.

Boland's bio, via Silver:

Projected to be a defensive lineman at Connecticut…as a senior, won both the offensive and defensive Hookey Reap award for the top lineman in Lackawanna (Pa.) County…was also all-region and all-state as an offensive lineman…blocked for two 1,000-yard rushers on team..had 67 tackles, 14 sacks and 14 tackles for loss in senior year…was all-region in junior year as an offensive lineman…team went 14-2 in senior season…advanced to championship game of Class A of PIAA tournament…was also team's kicker and scored 32 points…born August 18, 1994.

In other transfer news, the Huskies will finally get a look at Graham Stewart, the former Florida linebacker who transferred to UConn last year to be closer to home. He was lost for the 2012 season to a pectoral injury but now he's fully recovered.

"Being able to sit out last year, watching them and watching film the good thing was I was able to pick up the good traits from both of them," Stewart said via the New Haven Register. "They are both guys who can play in the NFL and Sio is excelling (with the Oakland Raiders). I see myself fitting into Sio's old role but putting my own stamp on the position."I feel strong being able to pass rush and blitz but at the same time being able to cover a lot of ground."

Stewart is running with the first-team linebackers along with Yawin Smallwood and Ryan Donohue.