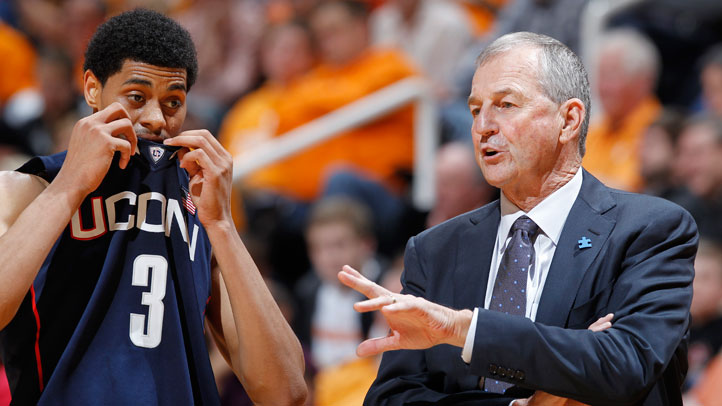 It's too early to panic. Yes, the Huskies have now lost five times on the season, and that 3-2 Big East record doesn't exactly scream consistency (much less defending national champions). But we've seen this before -- 12 months ago.

That was a different UConn team -- coach Jim Calhoun would be the first to tell you that, probably stressing the lack of veteran leadership on this squad. It's true that Kemba Walker was just a junior and the two seniors (Charles Okwandu and Donnell Beverly) came off the bench. But it was more about how that team responded to adversity. Calhoun has already said several times this season that he wishes the 2011-12 group more resembled the 2010-11 team.

Part of the problem is depth, something that wasn't considered much of an issue in the days and weeks leading up to the season opener. And then Ryan Boatright was forced to sit out while the NCAA reviewed his eligibility. That took six games, Boatright returned, and provided much-needed backcourt relief for point guard Shabazz Napier. Then, 10 games later, another NCAA review and more games without Boatright. Veterans or not, there's no getting around exhaustion and it's fair to assume that's now a big concern for the Huskies.

"Both our guards, Shabazz and Jeremy, have to play 40 minutes," Calhoun said explaining why he didn't pressure Tennessee Saturday. The Huskies eventually lost, 60-57. "I couldn't afford to have them in foul trouble. To have Shabazz with four fouls, with five or six minutes to go, I couldn't do that, because there is someone who is not here with us. … If he were here, I certainly would have [pressed]."

So now what? Hurry up and wait, basically. There's nothing UConn can do while the NCAA does whatever it does to get to the bottom of such matters. Details via the Hartford Courant's Dom Amore.
But the reality is Boatright sits and waits, and the NCAA offers no explanation as its mills grind slowly, mysteriously; UConn remains silent, as its officials feel they must rather than risk antagonizing the NCAA; fans are tweeting their frustration using the hashtag #FreeBoat. And the season hangs in the balance.

Boatright spoke with NCAA investigators late last week and, with a full week before the Huskies play again, vs. Notre Dame on Jan. 29 at the XL Center, they can hope — hope — to have their team intact for the last 11 games.
Things don't get easier; Tennessee was the Huskies' last non-conference game on the schedule. The team will have eight days off before hosting Notre Dame then over the next week they travel to Georgetown and Louisville and in between host Seton Hall.

And who knows, maybe the NCAA will have sorted out Boatright's situation by then.