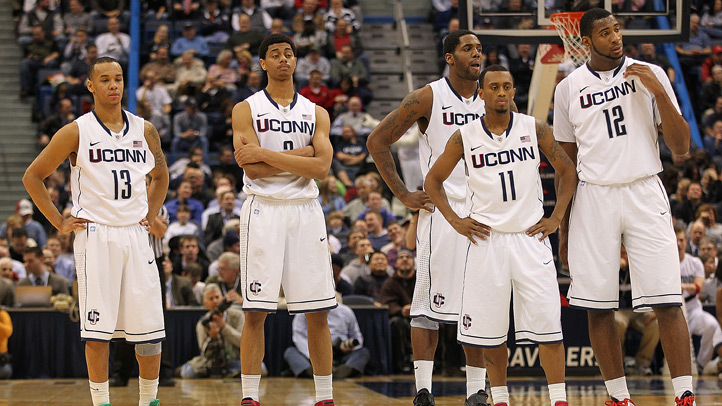 Bryce Cotton scored 22 points as Providence took down UConn 72-70 on Tuesday night.
Cotton scored 16 of his points in the second half while Providence (15-15, 4-13) teammate LaDontae Henton added 18 points and seven rebounds.
The Huskies started the game strong in front of a capacity crowd, building a seven-point lead with 1 minute left in the first half, but the Friars closed the gap to only two at halftime.
UConn (17-12, 7-10 Big East) started the second half with an 11-1 run and eventually gained a 14-point lead.
"I thought we had control of the game," said associate head coach George Blaney, "but we did a lot of things wrong from that point on."
This game was the eighth in a row without Huskies coach Jim Calhoun, who underwent surgery Monday to address a spinal condition. Connecticut is 3-5 during that stretch.
Cotton's four 3-pointers led a 26-5 Providence charge midway through the second half, punctuated by a technical foul called on Connecticut forward Andre Drummond. The run gave the Friars a 63-55 lead.
"I was a little confused by the call," Drummond said. "That's not an excuse, it's part of the game. I tossed it to him, and I guess he wasn't prepared for that and thought I tried to throw it at him. I guess he wasn't looking, so it looked like a cheap shot."
The Huskies scored the next six points, but then Henton returned to the game after sitting on the bench for 10 minutes with four fouls. He stopped the Connecticut charge with two 3-pointers, including one as the shot clock expired, to create a 69-61 lead with 1 minute to go.
"There's not a shot LaDontae doesn't like," Providence coach Ed Cooley said of Henton's buzzer-beater. "That mentality is great at some points, and he's always ready to shoot."
Jeremy Lamb retaliated with two triples of his own to close the gap, and the teams traded free throws until the score stood at 72-69.
Cotton fouled Connecticut guard Shabazz Napier with 3.5 seconds to play, and Napier hit his first free throw. He missed the second on purpose, but time expired as the players scrambled for a rebound.
Kadeem Batts had a career-high 13 rebounds for Providence, and Cooley credited him for his contribution.
"UConn is long and athletic," Cooley said. "We had to try and match their physicality with Kadeem Batts and Bilal Dixon. I thought they did a good job."
Drummond led the Huskies with 14 points and 12 rebounds, and Lamb contributed 12 points.
Copyright AP - Associated Press