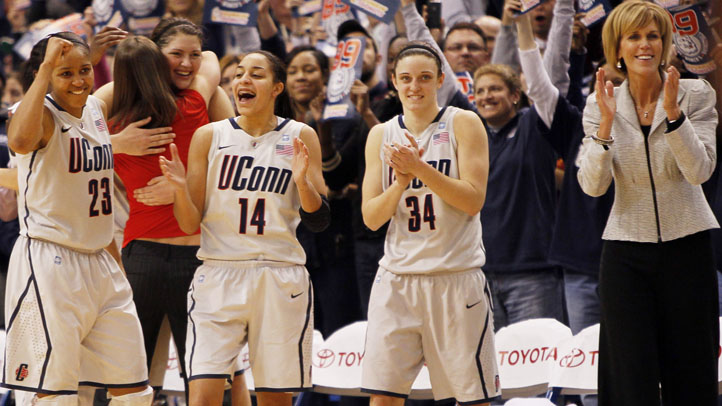 If the UConn men's basketball team is trying to hold it together post-Kemba and in light of the recent news that they are down to 10 scholarships for next season, the women's team truly embodies the cliche "we're not rebuilding we're reloading."

Maya Moore is now in the WNBA but the Huskies have three of the best players in the country in this year's recruiting class, and three more in the class of 2012.

In fact, two UConn recruits, Kaleena Mosqueda-Lewis and Moriah Jefferson, along with rising sophomores Bria Hartley and Stefanie Dolson, were just named to the USA Under-19 team. And one of their USA teammates is also on coach Geno Auriemma's recruiting radar: 16-year-old rising junior Diamond DeShields.

Yep, she's the daughter of Delino, the former Major League infielder who would have played basketball at Villanova if he hadn't been drafted 12th overall by the Montreal Expos in 1987. And it sounds like Diamond might be the better athlete of the two.

According to the Connecticut Post, "DeShields, who is being targeted by UConn, Tennessee and numerous other elite programs, averaged 9.0 points, 3.4 rebounds and 14.2 minutes to help lead the U.S. win the gold medal at the 2010 FIBA Americas U-18 Championship last summer."

This season at Norcross (Georgia) High School, DeShields was named the Gatorade State Player of the Year, Ms. Georgia Basketball, and averaged 20.6 points, 6.2 rebounds, 2.7 assists and 4.0 steals, helping her team to a 29-3 record and back-to-back state championships. (If Norcross H.S. sounds familiar, it's because that's where Jeremy Lamb played.)

More from the Post:
DeShields said she prides herself on working hard, spending as much time in the gym as possible. Norcross coach Angie Hembree, who coached former UConn star Maya Moore for two years at Collins Hill High in Suwanee, Ga., has kept her humble and challenged her to continue to improve.

"Last year when I first started getting all my awards, the first thing she did was she didn't even congratulate me," DeShields said. "She was like, `Just take it as a compliment. You can't get a big head. You need to use this as fuel to make you want to get better. Keep working hard.' So that's my mentality.''
DeShields also has a 3.0 GPA and volunteers in the community. It's not like the Huskies are struggling to meet the Academic Progress Rates set forth by the NCAA, but recruiting good students who happen to be fantastic basketball players certainly doesn't hurt.