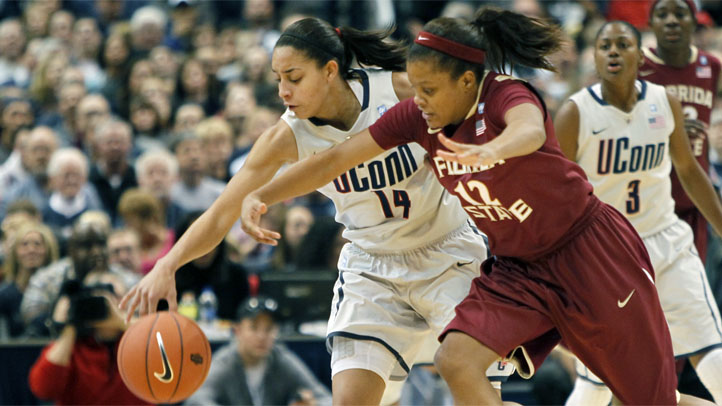 UConn has eight national titles under Geno Auriemma and are one of the most popular teams in the country. They're success -- and visibility -- is important for the sport, and it explains why the Huskies have regularly hosted first- and second-round tournament games at Gampel Pavilion: That's where the fans are. It's happened on 14 occasions between 1994 and 2013.

But even though the NCAA passed a rule earlier this year that allows schools to host regionals -- third- and fourth-round games -- on their home court, the Huskies aren't interested

Details about the new rule via a Hartford Courant story from June 28, 2013:
Regional hosting will allow UConn, for instance, to play on what is considered its home court beginning with the 2014 tournament. That means third- and fourth-round games –- the Sweet 16 and Elite Eight –- could be played at Gampel Pavilion or the XL Center.

However, an institution that decides to bid for a regional will not also be allowed to host a subregional in the same championship season.

The committee prefers that host institutions be limited to a regional in no more than two consecutive years.
While the Huskies aren't looking to host a regional, the school will instead bid on the 2014 first- and second-round games, also known as subregionals.

"The reason for that being we're opposed to institutions being able to host regionals on their home site," UConn senior women's administrator Deb Corum said via SNY.com. "So it would be disingenuous to say we're opposed to that and then bid for it.

"We're hoping that there will be someone else in the state of Connecticut or nearby that will bid for a regional. Maybe we'll be able to stay close by. We'd like to do that for our fans."

Bids must be submitted by Sept. 17 and the first- and second-round regional sites are expected to be announced Oct. 7.