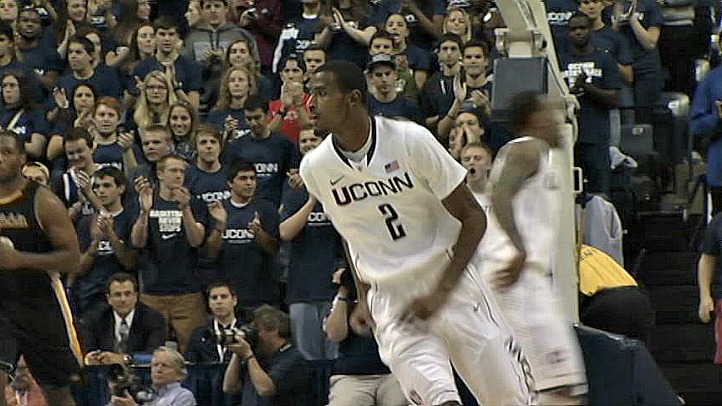 The Huskies cruised to a 93-65 win in their exhibition opener against Southern Connecticut State University Wednesday and junior forward DeAndre Daniels led the way with 21 points and 10 rebounds.

And while there was plenty to like, there's also plenty to work on. Daniels' 10-board effort aside, UConn is still struggling on the boards. They were out-rebounded 48-43, continuing a theme from last season.

"We'll go back into the lab and get it right," said sophomore big man Phil Nolan, "and you'll definitely see improvement next time."

Two other players scored in double-figures: junior Ryan Boatright added 15 points and senior Niels Giffey had 10. Freshman Kentan Facey, who was recently cleared to play by the NCAA, scored two points in 12 minutes while freshman Amida Brimah had eight points.

"He's going to be a great player for us," coach Kevin Ollie said after the game. "He plays with passion, he plays with energy, he plays with effort, and he is very, very long. He spreads out and he goes up with verticality and keeps his arms up. It's hard to shoot over him. If they do shoot over him, he alters a lot of shots, too. He's got a pretty nice jump hook down now and then, too. He's not as raw as a lot of people think."

Overall, Ollie was happy with the effort, but knows there's room for improvement.

"First game, we had some bright spots," he said. "We have a lot of things that we've got to work on. The first thing is transition, and then our rebounding. It's been an emphasis of ours. I'm disappointed with that, but it gives me an opportunity to come back on Friday and work on it extensively and try to get those guys rebounding.

"Transition hurt us this game. Giving up 27 fast break points is not good ... (but ) I like how we ran the ball. I like the spacing. We want to have tempo this year. We want to keep the lanes open so our guards can benefit from the new rules with the hand checking.

"All in all I was pleased," Ollie continued. I just wasn't pleased with the rebounding effort. Those guys are going to understand that on Friday when we come into practice."