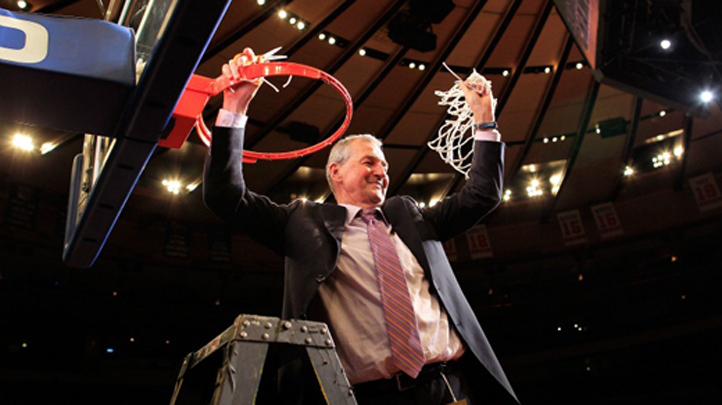 Back in March, as the UConn Huskies were limping through the final games of the Big East conference schedule and the regular season, they looked like a team in the middle of a rebuilding effort. The 2009 squad entered the year with high expectations only to flounder, and now Kemba Walker was a one-man show slowed by too many minutes, too many hard fouls and not much of a supporting cast.

Five months later, it's still difficult to describe what happened next. UConn won five games in five days and captured the Big East Tournament crown. Then they reeled off six straight NCAA Tourney wins and by the time it was over, Jim Calhoun's third national title.

Despite the improbable chain of events that led the Huskies to that moment, a confluence of circumstances would almost guarantee that once the 2011-12 season began, UConn would again be a middle-of-the-pack Big East team. First, there was the loss of Walker, who rightly took his game to the NBA. Then the less-than-stellar Academic Progress Rates (APR) led to the program losing three scholarships. Sophomore and sixth man Jamal Coombs-McDaniel transferred, and Calhoun was noncommittal on whether he'd even coach again. This all happened in a two-month span.

But as quickly as the worst seemed inevitable, UConn's fortune changed. Jeremy Lamb, who dominated during the World Championships with U-19 US National Team, appears ready to replace Walker; Shabazz Napier and Roscoe Smith looked like completely different players during summer workouts; and UConn landed two huge recruits in DeAndre Daniels and Omar Calhoun (class of '12-'13) to go along with Ryan Boatright.

The team looked less like a .500 conference team and more like the scrappy upstart that willed its way to an 11-0 postseason record and a national title last spring. And then the impossible happened…

Friday night, the best high school player in the country and a kid UConn has coveted for some time, Andre Drummond, announced that he was headed to Storrs … for the 2011-12 season. Naturally, word came via Twitter: "It's official I'm heading to the university of connecticut to be a husky this year! Do I hear repeat."

This is game-changing news.

For starters, Drummond said a few weeks ago that he was headed to prep school, and presumably off to the NBA after that. Best case: the Huskies could recruit him over the next 12 months and hope against hope that Drummond might consider playing a year of college basketball before making his fortune in professional basketball. Turns out, UConn might have Drummond for just a year, but it's this year.

That's huge for a couple reasons. First, there's a good chance Lamb will turn pro after the season and Alex Oriakhi could join him. With Drummond in the fold, the Huskies are suddenly legit contenders to defend their title.

Their biggest obstacle could be the same one they faced two years ago: not succumbing to preseason expectations. It's amazing to think that the program went from also-rans to national champs to rebuilding to a top-5 team in less than six months.
Now all they need is a head coach.