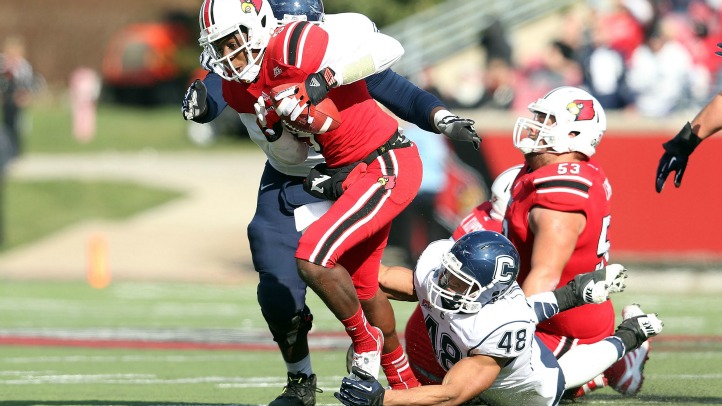 As the Huskies prepare for the biggest game of the season -- and easily the biggest in Paul Pasqualoni's two years as coach -- the good news from last Saturday's triple-overtime win over No. 20 Louisville continues to pour in. On Monday, the Big East named Trevardo Williams the defensive player of the week and kicker Chad Christen earned special team player of the week honors.

Williams, who broke the UConn career sack record earlier this season, was nearly unstoppable against Louisville. He had seven tackles, 3.5 tackles for loss, and three sacks on the afternoon, and helped hold the Cardinals' potent rushing attack to 27 yards.

Christen, meanwhile, converted the game-winning kick, a 30-yarder in the third overtime coming moments after a Blidi-Wreh Wilson interception ended Louisville chances. Christen was 3 for 3 for the game, including a 39-yarder in regulation and a 37-yarder during the first overtime.

It's a nice turnaround for kid responsible for replacing Dave Teggart; he was 0-for-4 in UConn's homecoming overtime loss to Temple earlier this season. Not only did Christen keep UConn's bowl hopes alive, he could get the chance to do it again next week when the Huskies host Cincinnati. Win there and their bowl eligible, lose and it's another disappointing end to another disappointing season.

There's more good news though it's strictly ceremonial: after languishing near the bottom of ESPN.com's Big East power rankings for the last month or so, the Huskies find themselves No. 5 behind bowl-bound Rutgers, Louisville, Cincy and Syracuse (and ahead of Pitt).

"Had to start parsing wins between Pitt and UConn," ESPN.com Big East blogger Andrea Adelson wrote Monday. "I ranked the Huskies higher because I thought it was a bigger upset for them to go on the road and beat Louisville. And they have the head-to-head win against the Panthers."

If the Huskies take care of business this weekend, rankings won't matter.