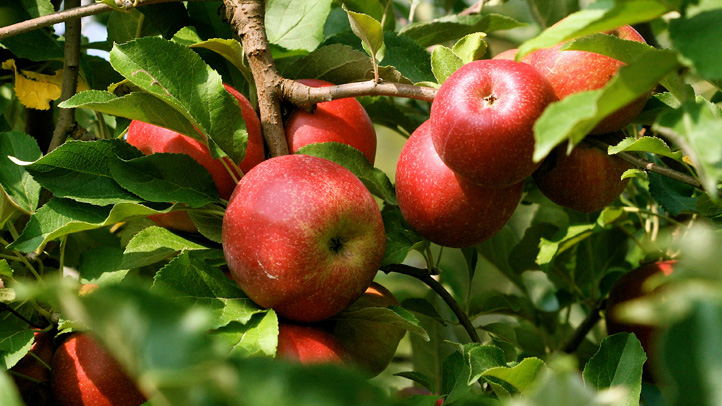 ½ Cup Brown Sugar
3 Tbsp. Granulated Sugar
1 Tbsp. Honey
4 Baking Apples-peeled, cored, sliced into wedges
1 Stick Butter-softened
½ Cup Granulated Sugar
1 Egg
½ tsp. Vanilla Extract
1 ½ Cups Cake Flour
1 ½ tsp. Baking Powder
1/8 tsp. Salt
½ Cup Milk
Preheat oven to 360°f. Prepare an 8" or 9" cake pan with vegetable spray and a parchment paper circle.
Mix together the brown sugar, first measure of sugar and honey until smooth. Stir in a few drops of water just to thin slightly and make spreadable. Evenly spread this mixture on the bottom of the cake pan. Arrange a circle of apple slices around the outside of the pan and fill in the center with remaining apples.
Prepare the cake batter by creaming together the butter and second measure of sugar. Add the egg and vanilla, mix until smooth.
Sift together the cake flour, baking powder and salt. Add add about 1/3 of the flour, mix until smooth. Add half of the milk, mix until smooth. Add another 1/3 of the flour, mix until smooth. Add the remaining milk, mix until smooth. Finish with the remaining flour, mix until smooth. Scrape down the bowl often while mixing.
Top the fruit in the cake pan with the batter, spread evenly without disturbing the fruit arrangement. Bake in the oven for about 35 minutes or until done tested with a toothpick. Let cool only for about 5 minutes, then un mold onto a serving plate. Great served with whipped cream. Makes 1-8" or 9" Cake