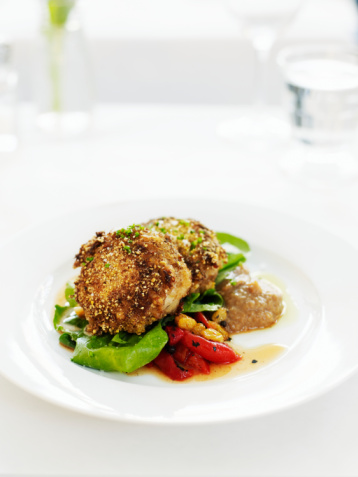 1 Lb. Scrod Fillets-simmered gently in water until cooked, drained, flaked
1 Tbsp. Butter
1 Cup Onions
1 ½ Cups Mashed Potatoes
2 Egg Yolks
2 Tbsp. Flat Leaf Parsley-chopped
1 Cup Bread Crumbs-any favorite variety
As Needed Vegetable Oil –for pan frying
Salt and Black Pepper to Taste
· In a saute pan, gently cook the onions and butter until softened. Cool. In a bowl, combine the cooked, flaked fish with the onions, mashed potatoes, egg yolks, and parsley. Season to taste with salt and pepper, being careful not to break up the fish flakes too much. Use a scoop to help form the patties, shaping with floured hands until about ½" thick. Coat all sides of the cod cakes with the bread crumbs, pressing gently to adhere. Refrigerate until firm.
· To cook, heat a saute pan on medium heat with about ¼" of vegetable oil. To test the heat, sprinkle a small amount of bread crumbs into the oil. The crumbs should gently sizzle. Carefully place the cod cakes into the oil. Brown for about 1-2 minutes on each side, drain on paper towels. If the inside is not as hot as you would like, finish by placing in a 350ºf oven for about 5 minutes or until hot. Serve with your favorite sauce or with dressed salad greens.
CT Culinary Institute's Website: www.ctculinary.edu