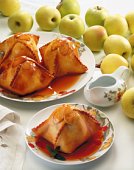 Crispy Native Apple Pie
Makes 4 Individual Pies
By Chef Jamie Roraback
3 Cups Apples for Baking, peeled, cored, diced 1"
2 Tbsp. Butter
½ Cup Brown Sugar
1 tsp. Ground Cinnamon
¼ tsp. Ground Nutmeg
1 tsp. Pure Vanilla Extract
1/8 tsp. Salt
8 Phyllo Sheets
½ Cup Melted Butter
· Preheat oven to 400°f. Prepare filling by heating a sauté pan on medium high heat. Add the apples and butter. Cook stirring until the apples begin to soften, about 4 minutes. Add the brown sugar, cinnamon, nutmeg, vanilla, and salt. Cook until the mixture becomes syrupy. Let cool and reserve for assembling the pies.
· For each pie, lay out one sheet of phyllo dough. Brush a thin layer of melted butter on the entire sheet. Place another sheet of phyllo on top of this sheet. Butter half of this sheet and fold in half crosswise. This will create 4 layers, with a thin layer of butter in between. Butter half of this folded sheet and fold again, creating 8 layers.
· Place ¼ of the cooled apple filling at the center of each square of folded phyllo dough. Gather up the sides around the filling. Lightly butter the edges of the individual pie. Place on a baking rack set over a cookie sheet. Repeat with the three other pies. Bake in the preheated oven for about 25 minutes or until deep golden brown. Serve with ice cream and enjoy!
CT Culinary Institute's Website: www.ctculinary.edu