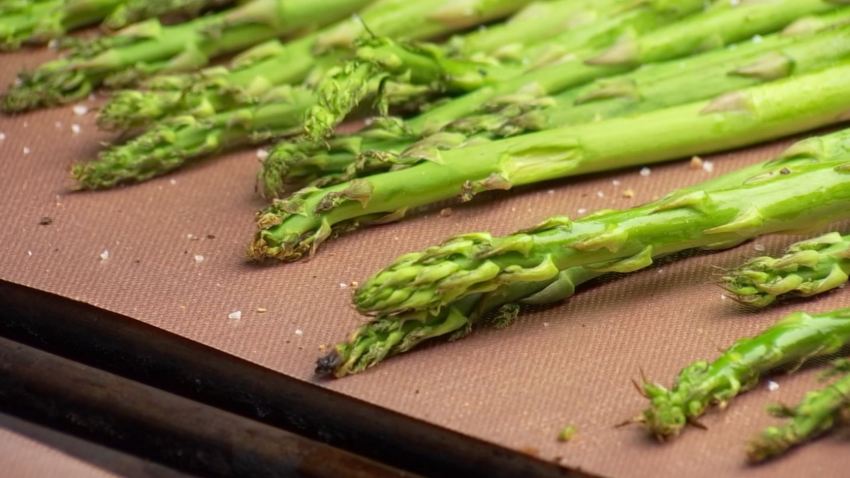 This recipe serves four.
Ingredients:
½ Cup Panko Bread Crumbs
3 Tbsp. Dry Porcini Mushroom Powder-use a coffee grinder to grind up
1 Tbsp. Freshly Grated Parmesan Cheese
2 Tbsp. Melted Butter
2 Tbsp. Extra Virgin Olive Oil
20 Each Asparagus Spears-tough bottoms trimmed, peeled if larger
To Taste Salt and Black Pepper
Instructions:
Toss together in a bowl the bread crumbs, mushroom powder, Parmesan cheese, melted butter and olive oil. Season to taste with salt and black pepper. Lay out on a baking sheet and bake in a 400°F oven for about 5 minutes or until evenly golden. Stir once while baking if necessary to toast evenly. Reserve.
Bring large pot of salted water to a rapid boil, and add the asparagus in two separate batches (12 spears at a time) to the rapidly boiling water for about 3 minutes just until tendercrisp, check by tasting one for your desired tenderness. Do not allow the water to stop boiling. You may need to cook the asparagus 3 or more batches. Drain and place 5 spears on warm plates.
Divide the bread crumb mixture over the four plates of asparagus. Enjoy!