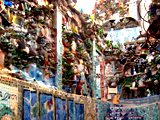 Green Goddess Salad:
6 cups mixed greens
2 large beets, cooked for 1 hour in simmering water. Cooled, peeled and chopped
½ cup goat cheese
1 cup toasted walnut halves
1/4 to 1/2 cup dressing
Place all ingredients in a salad bowl and toss well.
Green Goddess Dressing:
1 cup mixed fresh herbs (parsley, chives, scallions, dill, and oregano) washed well
½ cup red wine vinegar
¼ cup olive oil
2 Tbsp. honey
2 cups sour cream
Salt and pepper to taste
Instructions:
Place in herbs, vinegar and oil in the beaker of a blender.
Turn on high and puree well about 45 seconds to 1 minute. The mixture should be bright green.
Next add the honey and sour cream and turn on high to incorporate well.
Adjust seasonings with salt and pepper.