Temperatures will really heat up on Sunday and Monday when we'll see the peak of the heat. High temperatures are expected to reach record levels.
After an impressive six days of 90+ temperatures, clouds kept our temperatures at Windsor Locks in the mid-80s on Friday, breaking our last heat wave.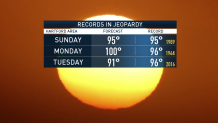 While we'll likely still be in the 90s on Tuesday, we will be lower than the record high of 96.
Thunderstorm chances do not return until Tuesday/Wednesday and the good news about the heat is that we look to have moderate levels of humidity. Nothing overly tropical is expected.
Get the latest on the heat and track the temperatures in your First Alert Forecast.
Hot Weather Tips
With today's hot weather, here are some tips to help stay safe, cool and hydrated from the Centers for Disease Control and Prevention.
Wear appropriate clothing including lightweight, light-colored, loose-fitting attire.
Stay cool indoors including in a place with air-conditioning as much as possible.
Schedule outdoor activities carefully and try and plan them when the day is the coolest or in areas with shade.
Wear sunscreen and continue to reapply it while you are outside.
Do not leave children in cars as cars can quickly heat up to dangerous temperatures even with a window cracked open.
Avoid hot and heavy meals.
Drink plenty of fluids and don't wait until you are thirsty to drink.
Keep pets hydrated by providing fresh water and leaving the water in a shaded area.
Know the signs of heat-related illnesses and how to treat them.