Parts of eastern Connecticut woke up to several inches of snow Monday morning.
Eight inches of snow fell in Moosup, seven inches fell in East Killingly, five-and-a-half inches fell in Mystic and Lisbon and four-and-a-half inches fell in New London.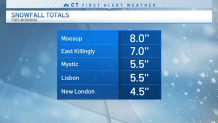 Dozens of schools issued delays on Monday morning. You can get the full list here.
For Valentine's Day, you can expect a partly cloudy, windy and cold day. Highs will be in the low-20s.
Gov. Ned Lamont is directing the state's severe cold weather protocol to be activated from 3 p.m. Monday through noon on Wednesday.
While it is in effect, a system is set up for state agencies and municipalities to coordinate with United Way 211 and Connecticut's network of shelters to make sure that anyone in need can receive shelter from the outdoors, including transportation to shelters. Anyone in need is urged to call 211 to get connected to these services.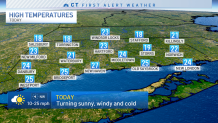 Tomorrow will be mostly sunny with highs in the low-30s.
As the week goes on, temperatures will get milder. Wednesday will be mostly cloudy with highs in the mid-40s.
By Thursday, highs will be in the upper-50s. Rain is possible at night.