Snow started falling just before noon Tuesday and state police are urging people who have to drive to slow down and keep an extra distance from other vehicles as they respond to dozens of crashes.
The amounts of snow aren't expected to be a lot, but it will coat the roads just in time for the evening commute and could cause slick conditions.
A heavy burst of snow made roads in Hartford slick. Interstate 91 northbound was closed at exit 27 due to a multi-vehicle crash Tuesday evening.
Several schools made the decision to dismiss early or switch to remote learning due to snow.
The snow will will be light to moderate in intensity by tonight.
NBC Connecticut First Alert meteorologists say two to four inches of snow is possible in northern Connecticut while southern parts of the state closer to the shoreline will likely see one to two inches.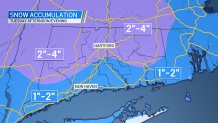 Winter weather advisories are in effect. The advisories ends in some counties tomorrow morning and others tomorrow afternoon.
There is a possibility for early morning snow showers tomorrow. Highs will be in the upper-30s.
A major storm misses us on Thursday.
The governor is directing the state severe cold weather protocol to be activated from Thursday through Sunday.