Severe thunderstorms moved through Connecticut on Wednesday afternoon and brought down some trees and power lines.
There was a tornado warning issued for parts of the state and it has since expired.
There were also Severe Thunderstorm Watches in effect for New Haven, New London, Middlesex and Windham counties, but they have also expired.
Hail was reported in towns including Granby and Torrington.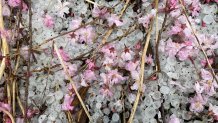 In Simsbury, a tree came down on top of a house on the Butterchurn. Part of the roof of the house appears to be damaged. It's unclear if anyone was injured when the tree came down.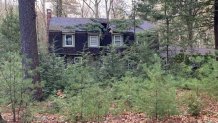 Also in Simsbury, there is an Eversource crew on East Weatogue Street and there is a tree down that appears to have taken down wires.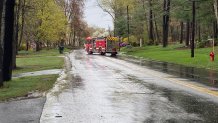 A tree and wires were brought down on Floydville Road in Granby. The tree is partially in the road, however, one lane of the road appears to be open to traffic.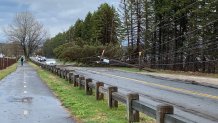 A large tree also came down on top of wires on Tinker Trail in Granby.
Damage can be seen along the side of the road on Route 7 in Kent. There are downed trees and branches there.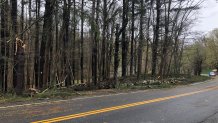 On Cornwall Bridge Road in Sharon, there is a large tree hanging on top of power lines.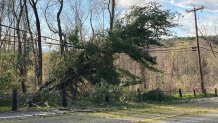 Suffield Police said there are trees and wires down in multiple areas around town and it is mostly effecting the west side of town. According to police, Newgate Road, North Stone Street and Hill Street are all closed due to trees and wires down.
As of 10:45 p.m. on Wednesday, Eversource is reporting over 2,200 outages.
After the storm moves though Connecticut, temperatures will become sharply colder tonight and tomorrow. It might also snow in some of the hill towns overnight into the morning.
A Freeze Warning is in effect for Windham, Hartford and northern Middlesex counties.
By tomorrow morning, temperatures will be near 20 degrees.