A storm passing to the south of the state brought a soaking rain to start the day.
The rain continued for most of the morning and has ended for most of the state.
As drier air begins to work into the state on the backside of the storm, some clearing is likely by the late afternoon and evening.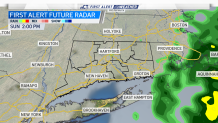 Sunshine and wind returns for Monday with highs close to 60 degrees.