A strong cold front has moved through the state resulting in cold temperatures to begin the new work week.
This morning, bitterly cold wind chills were felt across the state. Wind chills or "feels-like" temperatures will be in the single digits near zero at times.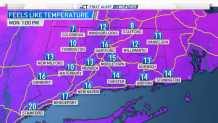 The average high temperature for this time of the year is normally in the middle 40s. The forecast high temperatures for Monday is upper 20s to the lower 30s.
The winds will diminish tonight. It will remain fair and chilly with lows in the teens and low 20s.
Tomorrow will be a little warmer with highs in the low 40s. A flurry or sprinkle is possible at night.
Somewhat milder air arrives by Wednesday for St. Patrick's Day with highs near 50.