A cold front has ushered in a cooler, more seasonable airmass to the state and scattered showers are possible in some parts of Connecticut this afternoon.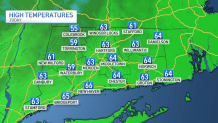 After several days with high temperatures in the middle to upper 70s, more seasonable upper 50s and lower 60s are expected today.
Some instability in the atmosphere will lead to afternoon clouds and a few scattered showers across parts of the state.
Even cooler temperatures are expected by Monday. Many towns will see high temperatures remain in the 50s. The average high temperature for this time of the year should average in the low 60s.