Thousands were without power, including a healthcare facility, Friday morning after storms moved through Thursday afternoon, leaving behind a trail of damage in Enfield.
As of 8:30 a.m., there are less than 1,000 Eversource customers without power. Last night, 8,700 Eversource customers across Connecticut were without power, including more than 3,300 in Enfield.
Eversource said crews are working to restore power as quickly and safely as possible.
An NBC Connecticut crew reported significant damage in the areas of Glendale and Ellis Roads, off South Road.
One woman who lives in the area had a tree come down through the window of her kitchen. At another home, a tree came down on a car just minutes after the owner got out of it.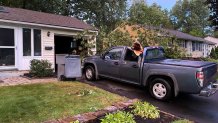 The storms began to move in Thursday afternoon after a day of excessive heat across the state.
Weather Stories
The "feel like" temperature reached anywhere from 100 to 110 degrees in parts of Connecticut Thursday.
Temperatures on Friday will also be in the 90s and a few storms on Friday night and Saturday will bring relief.
Sunday looks nice and more comfortable.