A nor'easter will bring significant snow to Connecticut tomorrow night and Thursday morning and the governor is asking anyone who does not have to travel during the storm to stay home.
"Stay safe, stay home," Gov. Ned Lamont said during a news conference Tuesday afternoon.
"If you're on a road, you're on a hill, you spin out, you slow down, that can stop a snowplow, that can create traffic, that can take a guy off the battlefield when we need them working around the clock," Lamont said.
The snow will begin to overspread the state around 7 p.m. tomorrow and will become heavy during the overnight. Between midnight and 7 a.m. Thursday, morning heavy snow, strong winds, and low visibility are expected.
Most of the state will see between eight and 16 inches of snow by the time the storm wraps up by late Thursday morning.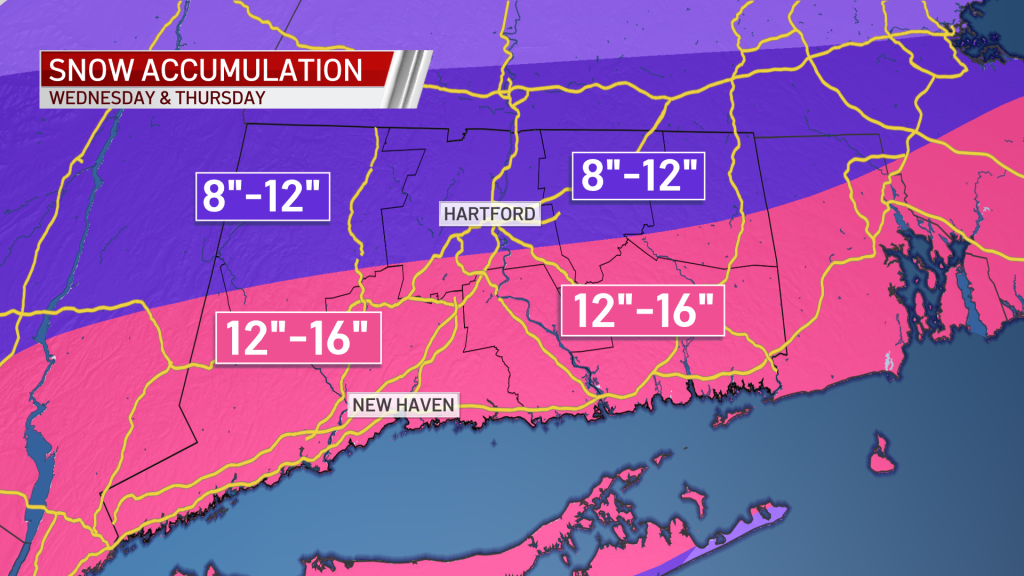 A winter storm watch has been issued for the entire state from tomorrow evening through midday on Thursday.
The nor'easter will be quick-moving, dumping most of the snow in a short amount of time and most people will wake up Thursday morning to significant snowfall totals.
Officials from the state Department of Transportation said they have more than 1,300 operators and supervisors, 634 state plows, 18 industrial loaders as well as materials, equipment and spare parts.
More than 100 employees have tested positive for COVID-19, officials said, and almost double that number are waiting on test results. Contractors are always used for a major storm, but they expect contractors to be needed more than in the past.
Anyone who needs to be on the roads is asked to stay well behind the plows. so the crews can clear the roads.
While students would have expected to have a snow day, so much has changed in 2020 and the governor told them to expect a virtual learning day.
"Sorry kids, in the old days, you used to have a snow day coming up, and now it will be a virtual learning day -- one of the many ways that our world has changed, so get the computer logged on because you'll still be learning for a little bit longer," Lamont said.
Thursday will be cold, with tempuratures in the teens to 20s.